Celebrating our Graduates: this week at VOH Africa
Welcome to our weekly news roundup! Here we share stories from each of our Villages about our Programs, celebrations, children, and staff. If you'd like to receive these updates via email, please subscribe to our newsletter.
Only 3 Evenings of Hope Left!

Join us this Fall for An Evening of Hope in your area!
The next evenings will take place: 
November 3rd in Ottawa, ON at Ottawa Bethel
November 10th in Mississauga, ON at PORTICO Community Church
November 16th in Newmarket, ON at Cedarview Community Church
Mark your calendars now for an Evening close to you! Tickets are now available via Eventbrite.
Read our recent blog to learn more about these events:
Burundi: Celebrating our Graduates!
VOH Burundi is excited to celebrate two of our new graduates: Lion Peter and Belyse!
These two young people have similar stories. Lion Peter was abandoned by his mother in Rwanda and became a street kid there until he met Delson, the VOH Burundi Director. Delson brought him back to Burundi and to VOH. Last summer, we celebrated his reconnection with his dad after 20 years!
Belyse and siblings were abandoned by their father and they stayed alone with their mother. Their mother struggled to care for Belyse, her siblings, and 3 orphans she'd taken in. VOH hired Belyse's mother as a housemother in one of our children's homes, Belyse's siblings and the 3 orphans living with them moved into the home, too, and Belyse moved into our youth homes.
We are very thankful for these two lives saved and full of hope for the bright future!
Mwanza: Nancy Goes to University!
Recently at VOH Mwanza, we celebrated our graduate Nancy's acceptance into University! Nancy has worked very hard over the last few years and qualified for a government loan. She was given the loan and accepted into the University of Dar es Salaam.
Beyond performing well in her studies, Nancy has grown into a beautiful young lady, inside and out. She is caring and compassionate, respectful and ambitious. We are very proud of her and we took some time as a Village community to honour her and celebrate her success.
Everyone came together to offer words of advice, pray for Nancy and share a meal together. It was a wonderful celebration and we can't wait to see all that God has in store for Nancy as she goes off to University!
Kitwe: Director in Canada for Evenings of Hope!
This past week our VOH Kitwe Director, Everlyn Chitente, travelled to Canada to take part in this year's Evenings of Hope! Evenings of Hope are an opportunity for friends and supporters of VOH to meet and hear from VOH children and staff.
They provide an opportunity for us to say thank you and for us to all celebrate the fruits of the ministry together. Everlyn is joined by Nancy Bersaglio (Director of Development), Shaline Mwenya (Director of VOH Chongwe), Fatuma Banda (VOH Kitwe graduate), and Mwaka Lisulo (VOH Chongwe student).
You can attend our final three events in Ottawa (Nov 3rd), Mississauga (Nov 10th), and Newmarket (Nov 16th). Get Tickets
Chongwe: World Teachers' Day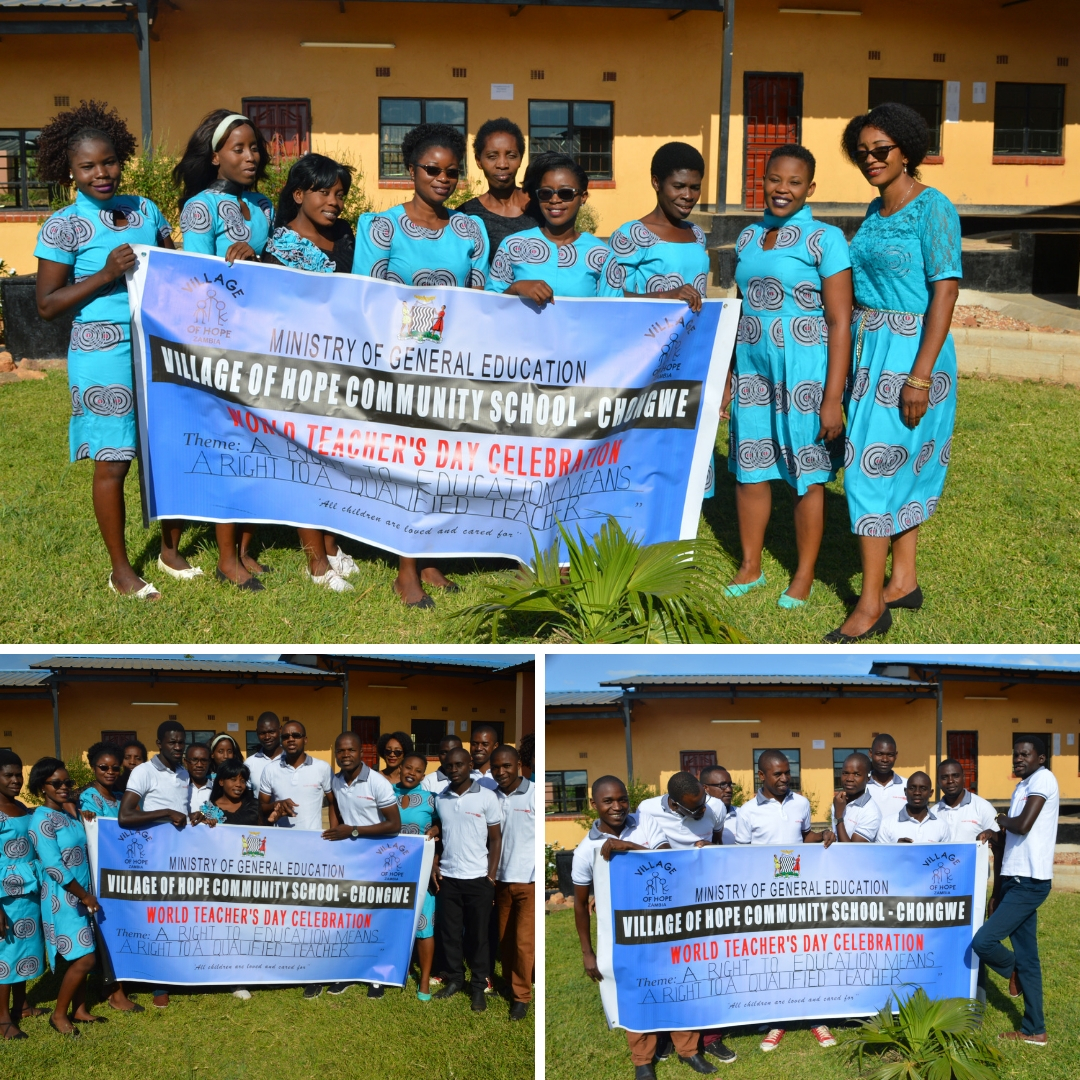 VOH Chongwe's teachers took part in this year's World Teachers' Day event. World Teachers' Day celebrates the significant contribution that teachers make in the lives of their students.
We are thankful for all of the dedicated men and women who have committed their lives to invest in the future of the children in our care!
Malawi: Got Milk?
At VOH Malawi our children have the privilege of drinking milk as part of our feeding program. Children like Madalo have benefited a lot from our feeding program because she is living in a household of six people and sometimes there is not enough food for everyone.
When Madalo got accepted into our program she was malnourished. We are glad to see her smiling face and to see her healthy and happy!
Mongu: Uncle Serge Visits
At VOH Mongu we were to have Uncle Serge, Director of VOH Africa, come to VOH Mongu for a visit! He came and held training sessions and meetings with the leadership in order to better prepare and plan for next year and the years ahead. We love setting goals and dreaming about the future together!
Uncle Serge also spent time with our Grade 10 class at VOH, teaching them about the public reading of scripture, a Biblical practice that is incredibly powerful still to this day! The students were so encouraged to receive spiritual guidance and wisdom and Isaac, one of our amazing Grade 10 students, stood and gave a beautiful speech thanking Uncle Serge for building into the student's lives.
Thank you for coming and for caring so much about our students, Uncle Serge!
Here's our Photo of the Week:
Don't forget to follow us on social media for more stories and pictures: