Welcome to our weekly news roundup! Here we share stories from each of our Villages about our Programs, celebrations, children, and staff. If you'd like to receive these updates via email, please subscribe to our newsletter.
This week we celebrated graduation, played with friends, and received Christmas goodies!
Don't forget to subscribe to our newsletter if you'd like to receive these updates via email!
Bulale (Tanzania): Christmas Packages!
Our school at VOH Bulale is taking a short break over Christmas. Before the break, we had the children and their caregivers come to receive a small gift and Christmas package. We were able to hand out 71 Christmas packages in total.
The children each got a gift with some treats for Christmas and each child also received a care package to help their families over the holidays. Each family received food and cooking supplies.
Everyone was so happy to receive the packages!
Bwiza (Burundi): Teamwork is Amazing!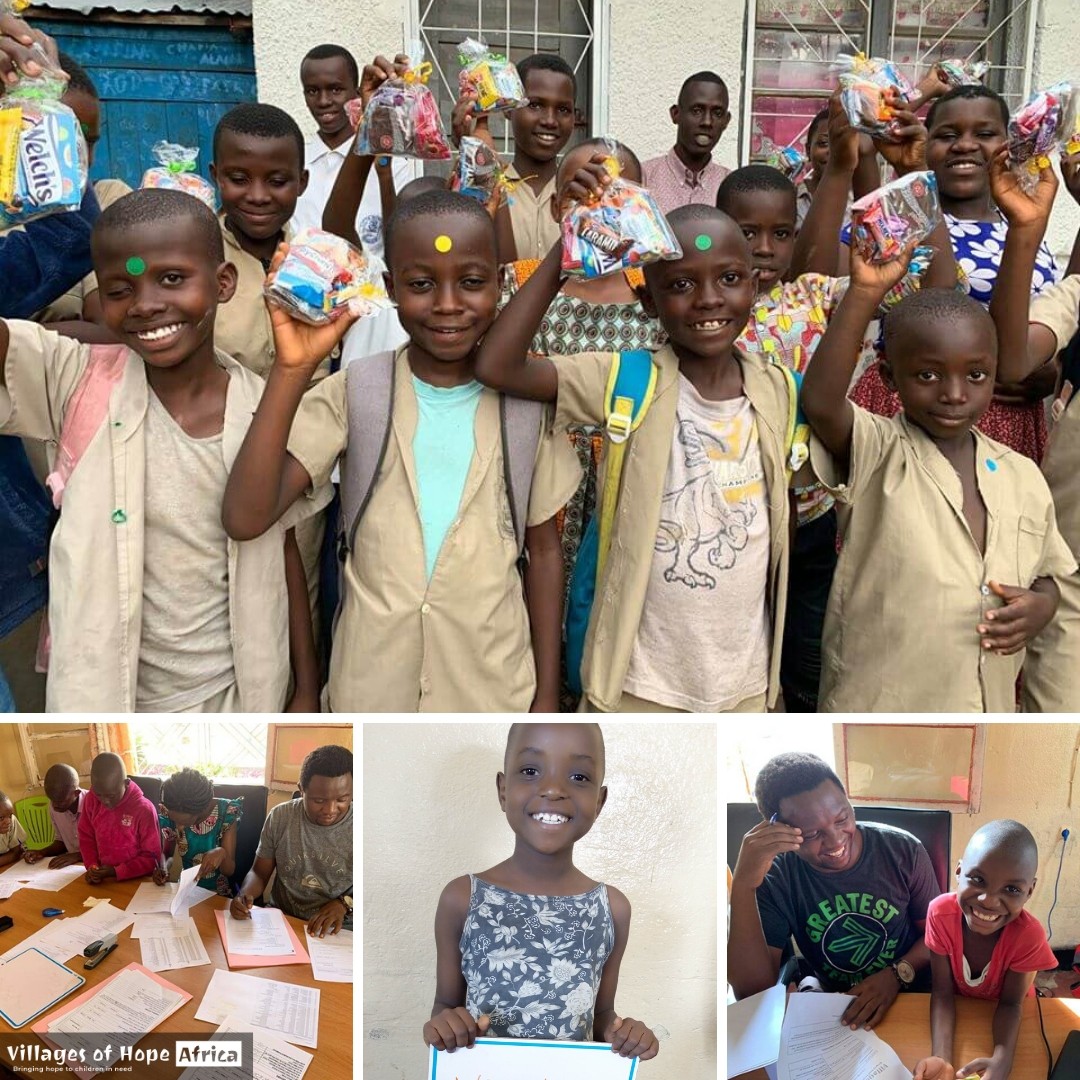 This week at VOH Bwiza, we have been working together with some volunteers from Canada who came to help us enter every single child into our new database. We were especially amazed by the way we were able to accomplish so much working together as a team.
Some of the VOH Staff were busy interviewing the children about their lives and interests and our volunteers took a picture of each child and entered the information and pictures into the database.
The children were very happy to spend this special one-on-one time with the staff and volunteers. At the end of the photo session, each child received a candy bag as a gift.
Everyone was happy and excited to be part of this important event at VOH. We are very thankful for the team and the work that was done during their stay here!
Chongwe (Zambia): Christmas Break
It's Christmas break at VOH Chongwe, but even though school is closed, we continue to provide the HEPS (High Energy Protein Supplement) daily feeding program to all of our children as well as to their siblings who are too young to be a part of our school.
The feeding program plays a very important role in our ministry and we are happy to expand our program to help as many children as we can even while school is out!
Kitwe (Zambia): 16th Graduation Ceremony!
This week VOH Kitwe celebrated our 16th Graduation ceremony for grade 12 students. Our theme this year was: "Graduation: a conclusion of one chapter, beginning of another."
It was a memorable occasion. Chikumbi, one of the graduating students, gave the valedictory speech. He reflected on coming to VOH for preschool and how far he has come since then. He expressed his appreciation for all that VOH Kitwe has done in his life and he encouraged his fellow graduates to hold on to the word of God.
Everlyn Chitente, our Director, congratulated the graduates for their commitment and hard work. The students were prayed for and they had a great time after celebrating with their families and friends who came to support them!
Malawi: New Chalkboards!
This week at VOH Malawi we are excited to show you our new chalkboards!
Our old chalkboards were made from either plywood or cement painted with black paint. They worked well but were hard to clean and they ate chalk at an alarming rate.
These new slate-style chalkboards are silky smooth and so easy to keep clean. They are more efficient for our teachers to use and are much more clean, clear, and easy to read. They are a fabulous addition to our classrooms.
Maramvya (Burundi): End of Term Tests
This week at VOH Maramvya, our preschool and primary school children along with their teachers are busy with 1st term tests. Before going on Christmas holidays, the students write tests designed to evaluate what they have learned.
The children enjoy the opportunity to show the things they have learned and we look forward to seeing their results!
Mongu (Zambia): Fun in the Sun!
At VOH Mongu we loved seeing our kids enjoy their last day of school before Christmas break. The preschoolers were having so much fun on the jungle-gym and enjoyed spending their last day at school playing with one another.
It's always so good to see the kids enjoying physical activity, socializing, and having fun. We believe laughter is the best medicine.
This was such an awesome way for the children to end the year together and we are so blessed to have these facilities that the children can use!
Mwanza (Tanzania): Christmas Care Packages
At VOH Mwanza we are getting ready for Christmas. Recently we were able to hand out Christmas care packages for all of our community children to help their families over the holiday break while school is closed.
Each child received a gift with candy, food, and supplies for their family to use over the break. Everyone was very happy to receive these gifts!
Zimbabwe: Bible Fest
This week at VOH Zimbabwe we held our inaugural Bible Fest where children took part in various activities that focused on their understanding of scripture and what it means to them. Activities included poetry, drama, public reading of scripture, art, music, and dance.
It was a great day for the children and staff!