This Week: Saving Lives and Winning Awards!
Welcome to our weekly news roundup! Here we share stories from each of our Villages about our Programs, celebrations, children, and staff. If you'd like to receive these updates via email, please subscribe to our newsletter.
This week a Zimbabwe graduate won an international award and VOH Mongu celebrated life-saving progress!
Photo of the Week:
Bulale (Tanzania): New School Shoes!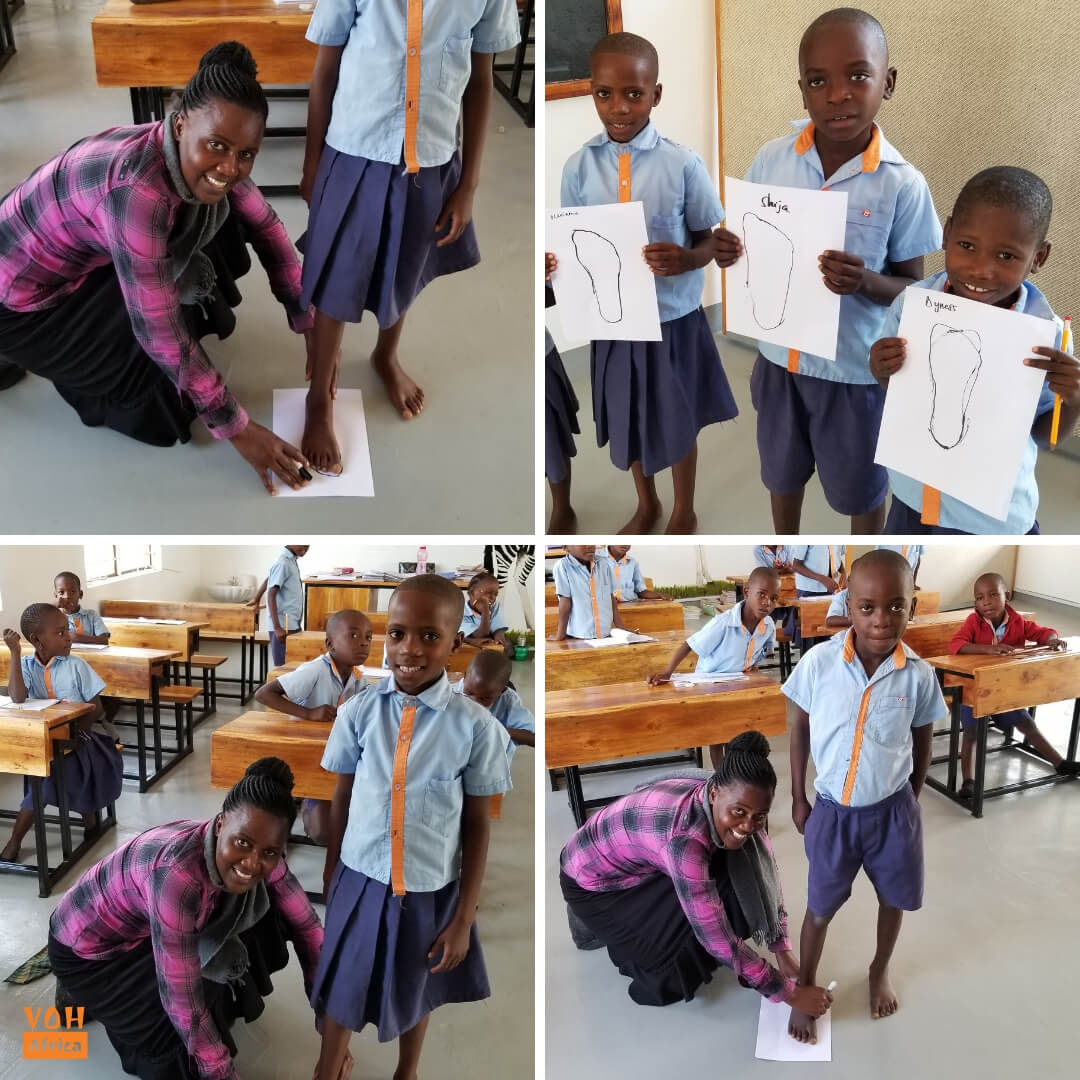 This week at VOH Bulale the children are having their feet measured for new school shoes.
Some of the children are new to VOH Bulale and will be receiving their very first pair of shoes! Others have grown out of their old pair of shoes and are getting replacements for their growing feet.
It's always an exciting time for the children. Their teacher, Betty, is measuring each student's feet as we prepare to order the shoes.
Rebeca, Shija, Mariam, and Dyness proudly hold up their foot measurements, showing how big their feet are!
Bwiza (Burundi): Welcome, Grace!

VOH Bwiza would like to introduce Grace, a sweet little girl who just moved into one of our children's homes. Grace lost her father at a very young age and her mother is mentally challenged.
Delson, the VOH Burundi Director, found her struggling and living in a desperate situation. When asked if she would like to live at VOH, she immediately agreed.
Grace is in our preschool class and is very happy and thankful for her new home and family!
Chongwe (Zambia): Meet Emmanuel

VOH Chongwe would like you to meet Emmanuel, one of the children living in our children's homes here at the Village. Unfortunately, Emmanuel's father deserted him and his mother when he was just six years old. Sadly, two years later his mother passed away.
Emmanuel was sent to live with his elderly grandmother who struggled to provide his basic needs. We were approached by Social Welfare and asked if we could give Emmanuel a home.
We were happy to welcome him into the VOH family and he is doing extremely well academically. He has just passed his grade 9 exams with excellent results and in January he began grade 10!
Kitwe (Zambia): Meet Innocent

Meet Innocent, he was brought to VOH Kitwe when he was just 2 years old. Before Innocent came to us, he lived at a different children's centre in Kitwe whose policy is to only care for children up to 2 years old.
Innocent has found a loving home with us at VOH, and for the first time, he is in school.
It brings us joy to see children who had no hope smiling today! We are grateful for each of our sponsors who help make it possible to bring new hope to children like Innocent!
Learn more about sponsoring a VOH Child: vohafrica.com/child-sponsorship
Malawi: Meet Carlene

At VOH Malawi Hope Academy School in Kauma, we have 168 students. Kauma is a community where 70% of the children do not attend school. Most often, this is due to a lack of finances.
Meet Carlene, she was born in a family of five children. She is being raised by a single parent who, in order to make a living, depends on small, part-time work like washing clothes and fetching water.
Carlene loves being in school! She is very playful and friendly and loves it when she receives her packet of milk from our feeding program. She is very smart and wants to be a nurse when she finishes school.
We are thankful that through our feeding program, healthcare, and school we are able to help children like Carlene in the community of Kauma!
Mongu (Zambia): Hope's Transformation

Meet Hope! Hope came to our Save A Life Feeding Program at VOH Mongu in August 2018, weighing 5.09kgs at 2 months old. Hope's mother is extremely sick and unable to care for her, so it was her grandmother who brought her to our program.
Hope's grandmother is an amazing lady who always volunteers to pray for the group at the feeding program and often helps out with anything extra that needs to be done.
Hope loves playing with her granny and the other children in the program and has now been discharged, weighing 7.2kgs! We loved seeing Hope pass milestones like sitting up, smiling, and interacting with other children, and are grateful she is now happier and healthier!
Mwanza (Tanzania): Thank You, Groundwork Media!

Recently VOH Mwanza welcomed Jordan Huston of Groundwork Media. Jordan travels around the world collecting video footage and photos of various missionaries and ministries, putting together videos that share the story of the work being done.
Jordan was with us for two weeks capturing the story of the Mwanza Village and our satellite location in Bulale. He interviewed Julius, our Director, and some other staff. He gathered lots of footage of the children's homes, nutrition program, classrooms, chapel service, and our nightly football (soccer) matches.
The children enjoyed having Jordan here and followed him around; they loved seeing themselves smiling back in his camera.
We are very thankful for Jordan and we are excited to see the videos he is able to create. They will help us to show people the story of VOH and help others better understand how we bring hope to children daily in Tanzania!
Zimbabwe: Congratulations, Tafadzwa!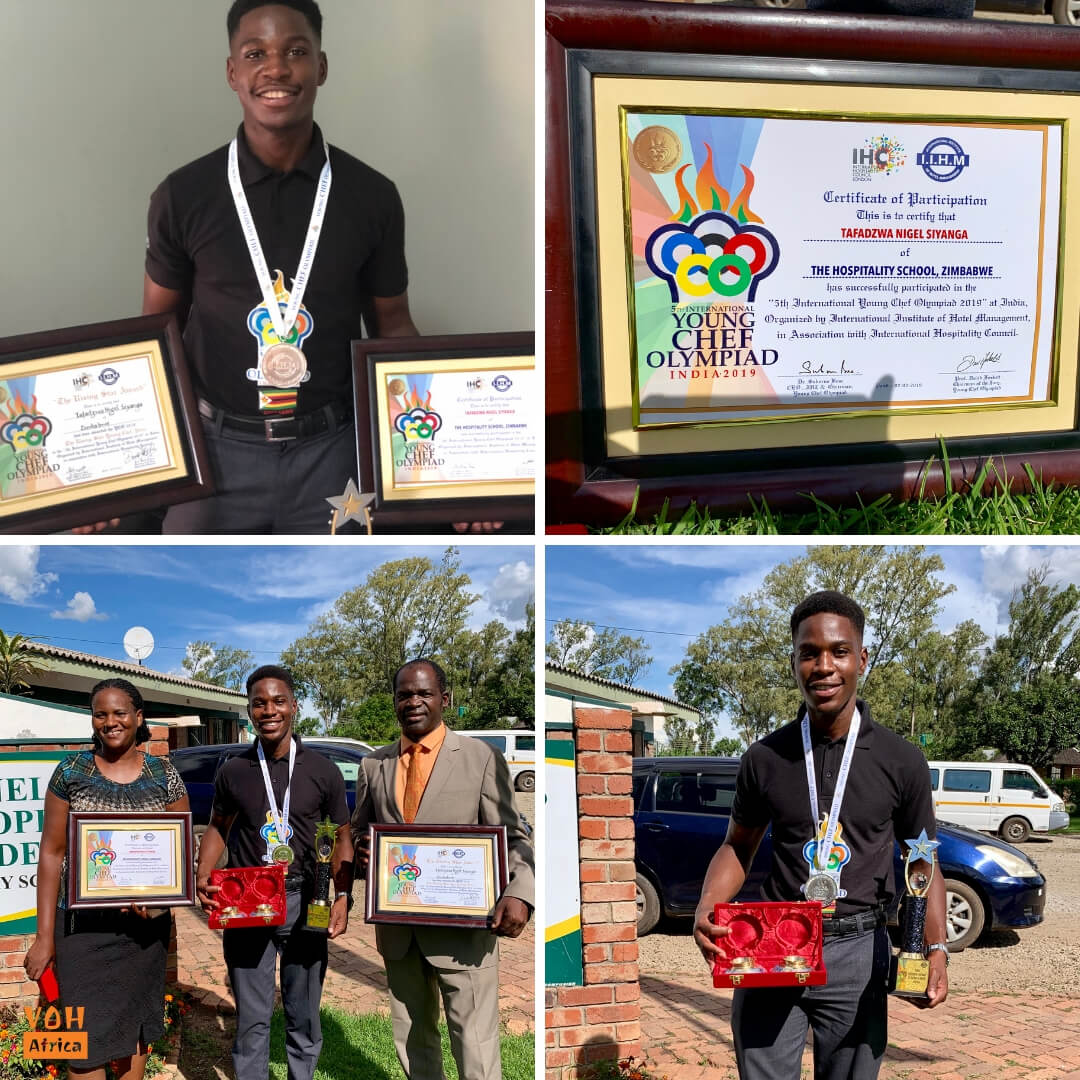 Meet Tafadzwa, a former student of our school at VOH Zimbabwe who just won an award in India!
Tafadzwa is studying to become a chef. He was selected by his school to represent Zimbabwe in India! He was competing against 53 other countries' representatives and he won 4 awards!
This is very encouraging for the other young students we have in our school. Tafadzwa is an inspiration and a testimony to the fact that the new hands-on government curriculum that we are using is really exposing our students to practical and applicable training for their future.
Congratulations, Tafadzwa!
Don't forget to follow us on social media for more stories and pictures: