Check out what's been going on this week at Villages of Hope-Africa...
New Uniforms for VOH Malawi!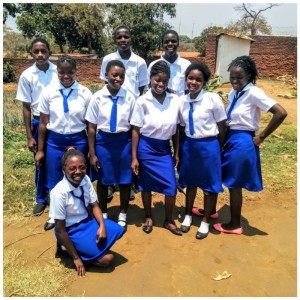 This week at VOH Malawi our high school kids received their new school uniforms. This group looked so sharp on their way to school that we asked them to stop and pose for a picture, which they gladly did!
---
Tutorials at VOH Burundi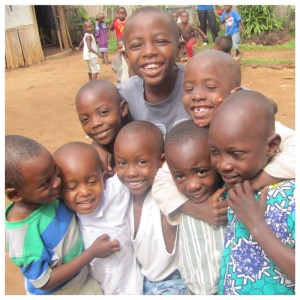 Every afternoon after their regular school lessons, the children at VOH Burundi meet at our Bwiza Center for any additional help they may need with their lessons. During this time they also receive a nutritious meal and have devotionals. The children really missed this time while they were on summer holidays and were happy to be back together again!
VOH Burundi has become a wonderful environment where our children feel loved and where they can develop special friendships. We are so happy to observe these beautiful faces so full of hope and smiles, especially knowing some of the desperate situations they have come from.
---
Welcome, Geoffrey + Fredrick!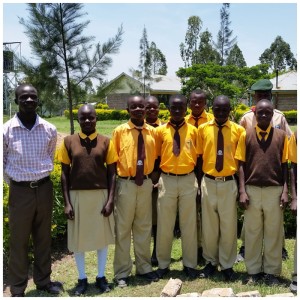 VOH Kenya would like to introduce Geofrey and Fredrick, two new teachers that just joined our school. Geofrey is teaching Science and Fredrick is teaching Religion and History. Both teachers are university trained, making them fully qualified to bring our students a high quality education that will prepare them for university. Our grade 9 students are hard workers, who are thankful for the opportunity to be in school and to be equipped for a brighter future.
---
VOH Under-5 Feeding Program
Given was brought to our clinic at VOH Kitwe this week by his young mother to be entered into our new under-five feeding program. This feeding program is a brand new initiative for us in Kitwe, and Given is the first child to be enlisted into the program. Given is very malnourished and needs nutritious food to be able to regain his health and grow and develop normally. We are presently putting together all that is needed to run this program and our senior Nurse has prepared the prescribed body building formula that we will be given to every young child that comes.
Each child will also be given a High Energy Protein Supplement (HEPS). We are so thankful that we have been able to expand our clinic and have an even greater impact on our community.
---
Sponsor Love Packages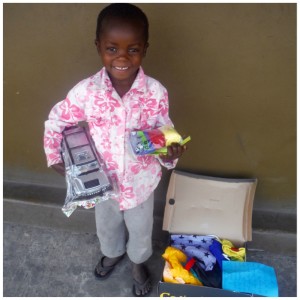 This week at VOH Mongu sweet little Richard received a gift from his sponsor that was filled with clothes, toys, and lots of love. He was smiling from ear to ear and was so grateful for the goodies from his dear sponsor! We love how much each sponsor invests in the lives of the children at VOH. We are so blessed to have so many people supporting us here in Mongu. To find out more about sponsoring a VOH child, visit vohafrica.com/child-sponsorship
---
Translated Gospel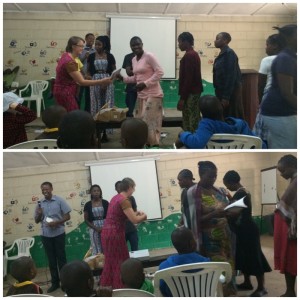 VOH Mwanza Church is moving on well at the Village. Last Sunday all of our older children and all of the adults received a special book, which is a new project our Pastor is part of. It includes all of the gospels translated into modern-day Swahili language. We want to use every opportunity to encourage our children to read the Word of God because we know it will change their lives! We continue to pray for our kids at VOH Mwanza, that they would deepen their relationship with God and know Him in a personal way.
---
10,000 Bricks for VOH Zimbabwe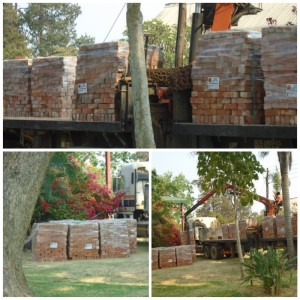 VOH Zimbabwe is celebrating this week! We received a donation Of 10,000 bricks to be used on our new Multipurpose Building. This donation came from a local church member. It is very encouraging to us when those in our immediate community contribute to the ministry of the Village.
---
Latest Video "VOH Graduates Share Their Stories"
In this video, we follow up with three graduates from VOH Kitwe: Samuel, Georgina, and Nelson. We are so proud of each of them and are excited for their futures… [read more]
---
Photo of the Week:
More from our #BringingHope photo campaign…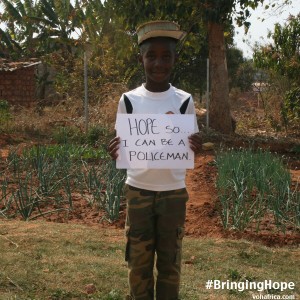 ---
Share this post:
[Tweet "VOH Chongwe High School: This Week at Villages of Hope #vohafrica"]
Receive these updates along with our monthly newsletter via email by subscribing  HERE
________________________
Stay Connected with us!