Early this year Nancy and I had the opportunity to visit Bethlehem, the birthplace of Christ.
We visited the typical tourist destinations, including the chapel that marks the spot where the angel appeared to the shepherd–how they know that beats me. We saw the church of the Holy Nativity; thankfully we didn't stand in the 1-½ hour-long line to see the so-called birthplace of Christ.
I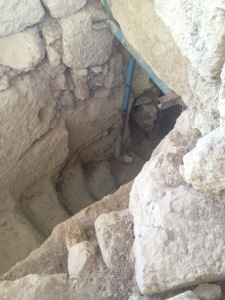 was happy that we had a chance to visit the ruins of what would have been a typical shepherd's home. We descended down into what was an underground dwelling this was where shepherds lived. There we found a stone trough better known as a manger. It was basic, crude, cold, and unassuming.  This would have been like the place where Mary and Joseph would have ended up that night when there was no room at the inn.
It could only have been through divine revelation that one would look at the infant born in this place and say, "Here is our saviour, Christ the lord" or " O there is the King of the Jews," as the wise men would have called him.
But what should we make of this event? How must we celebrate it?
I have been reading A.B. Bruce's book The Training of the Twelve. As fate would have it, I cam to chapter 22, which deals with the last supper, just as we were approaching the Christmas season. In order to make his point, Bruce puts the following words into the mouth of Christ that I think help bring Christmas into perspective:
"The memory of other men is cherished by the celebration of their birthday anniversaries; but in my case (Christ), better is the day of my death than the day of my birth for the purpose of a commemorative celebration."
I believe we make a mistake when we celebrate the birth of Christ without considering his death.
"My birth into this world was marvellous and momentous; but still more marvellous and momentous is my exit out of it by crucifixion… Fix your eyes on Calvary, and watch what happens there.  That is the great event in my earthly history."
I believe we make a mistake when we elevate the manger above the cross.
"Of my birth no festive commemoration is needed; but of my death keep alive the memory by the Holy Supper till I come again."
I believe we make a mistake when we celebrate Christmas without considering Easter.
Bruce then writes:
"Christians should sit down at the table in a spirit of humility, thankfulness, and brotherly love; confessing sin, devoutly thanking God for His covenant of grace, and His mercy to them in Christ, loving Him who loved them, and washed them from their sins in His own blood, and who daily feedeth their souls with heavenly food, and giving Him all glory and dominion; and loving one another… loving all redeemed men and believers in Jesus as brethren, and taking the Supper together as a family meal; withal praying that an ever-increasing number may experience the saving efficacy of Christ's death."
I believe we make a mistake when we make Christmas about family and not redemption.
So as we celebrate Christmas and sit with our loved ones and eat the Christmas meal, do it in remembrance of Him. The one who came from Glory through a simple unassuming birth, grew up in a traditional Jewish home, learned of His Father in the synagogue like others, was baptized in the Jordan, trained a group of non-traditional disciples, had constant conflict with the religious rulers, died a criminal's death, rose from the dead after being buried, and ascended back to glory.
Let us celebrate the one who now comes to live in hearts of stone that He changes into flesh.
Share this post:
[Tweet "Director's Blog: Visiting Bethlehem #vohafrica"]