Check out what's been going on this week at Villages of Hope-Africa...
VOH Zimbabwe Staff Training

Pastor Zowa recently held staff training sessions at VOH Zimbabwe. Staff training is a high priority at all Village of Hope locations and it is done on a regular basis.
Some of the items discussed during staff training sessions include Child Protection and any new government regulations that may impact the work at the Villages. Also included is specialized training in education and healthcare as well as training on understanding and caring for the physical, spiritual, and emotional needs of the children.
---
National Agriculture Show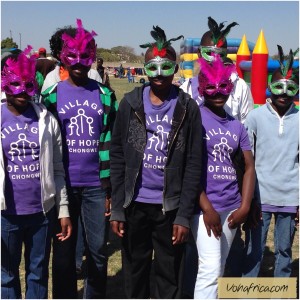 Children from VOH Chongwe had the opportunity to visit the 88th Annual National Agriculture and Commercial show in Lusaka for the first time. The purpose of the show is to feature all sectors of the economy from Agriculture to industrial equipment, motor vehicles, plastic products, financial services, forestry, fishing, and more.
The objectives of the show are to improve the agricultural standards in the country, to improve the living standards of the people, and to encourage the general public to learn new farming and entrepreneurial methods. The kids had a great time and were exposed to many things for the first time!
---
Celebrating School Break at VOH Kenya
The children at VOH Kenya celebrated their last day of school and are now enjoying the beginning of summer break! After working really hard to finish up work and tests, the children are now taking some time to relax and play.
While school is out, there are still chances for the older kids to receive extra tutoring time in difficult subjects. VOH Kenya is grateful for all the extra help we receive during this time for the children from all the staff!
---
VOH Kitwe Mock Exams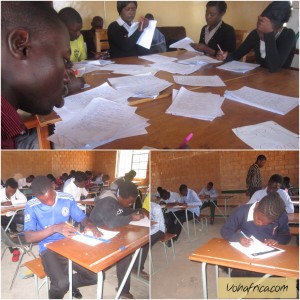 VOH Kitwe pupils in grades 9 and 12 have been busy writing Provincial Mock Exams. Apart from Public and Private Schools, we are one of only two Community Schools participating in these examinations.
These mock exams encourage students to study extra hard for Final exams. After marking the exams, the teachers have the opportunity to work with pupils in the areas that were difficult for them, which also better prepares them for the actual exams.
---
Playing with Blocks at VOH Mongu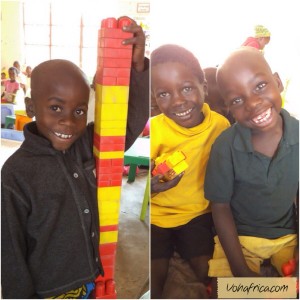 Kindergarten students at VOH Mongu have been learning how to play and construct with building blocks. The students were really enjoying themselves using the blocks to create different designs and learning the importance of working together. It seems that we may have some of the world's upcoming greatest builders right here!
---
New Cooking Shelters at VOH Mwanza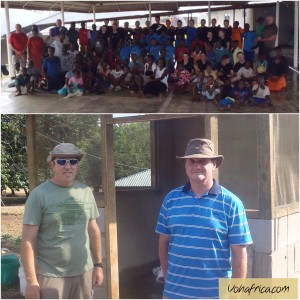 VOH Mwanza was blessed by a visit from a group of 20 young men and women from the UK. The group raised funds to enable us to build 6 cooking shelters. They also faced our soccer team for a game but were no match for us–we won by 5 goals! Whenever visitors come it reminds the children that they are loved and not forgotten!
---
VOH Zimbabwe Teachers Say Goodbye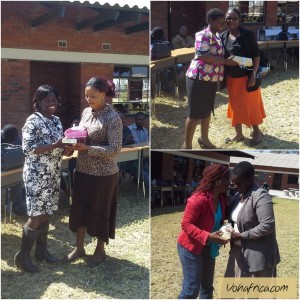 VOH Zimbabwe recently said goodbye to three of our teachers. Mrs. Dondo is moving out of the area to accompany her husband at his new job and two teachers who were doing their teaching practicum have now finished their five-term practice and will be assigned by the government to new schools.
We have greatly appreciated all three of these women and they will be greatly missed by both students and staff. We wish them all the best as they transition to their new schools.
 At the eight Village of Hope locations throughout Africa we are happy to be providing quality education to over 3000 students! Learn more about our education programs and how you can here: vohafrica.com/about/programs
---
Latest Blog "Where are they Now: Kelvin"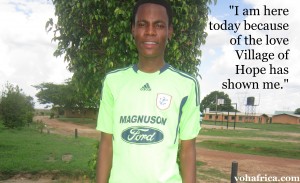 Village of Hope has done so many things in my life. 
From the day I came to Village of Hope things have changed not just in my life, but  also in my 3 brothers lives who came to VOH with me.
..
Read full story
---
 Photo of the Week: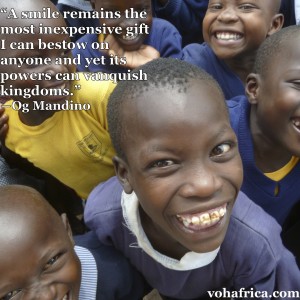 ---
Share this post:
[Tweet "Staff Training at VOH Zimbabwe: This week at Villages of Hope #vohafrica"]
Receive these updates along with our monthly newsletter via email by subscribing  HERE
________________________
Stay Connected with us!