The science exhibition programme is meant to enhance the scientific mind of students despite their different intellectual capacity.
The exhibition was carried out at the VOH Zimbabwe school with participants from both the primary school and the secondary school. Students made projects that have a scientific application. They made a choice from projects ranging from models, designs, collections, investigations, and recipes.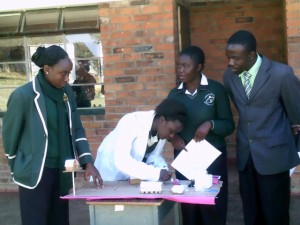 Models are representatives of the original thing or ideas students have come across in their scientific environment. When making a design, the students have to combine scientific ideas to create something that is functional. Students can carry an investigation on a chosen scientific principle or hypothesis. Such investigations should be carried out with easily available resources and should be demonstrated during the exhibition.
Recipes involve mixing up different ingredients to come up with something useful. When making collections students have to bring together different artefacts and come up with a project that can help people in their everyday life.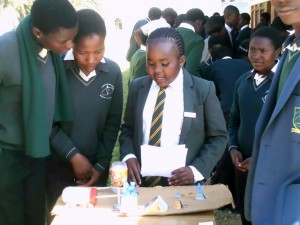 A total of 22 students participated, 9 from the secondary school and 13 from the primary school. A panel of 3 independent adjudicators was selected. These were to help in choosing the winner from the E.C.D, Grade 1, Grade 2, Grade 3-4, Grade 5-6 and Grade 7 categories for the primary.
The same adjudicators were also to choose winners from the Junior and Senior categories for the secondary school students. E.C.D, grade 1 and grade 2 pupils were to present collections, grade 3 and 5 pupils were to present recipes, grade 6 were to present models, while grade 7 pupils were to present gadgets.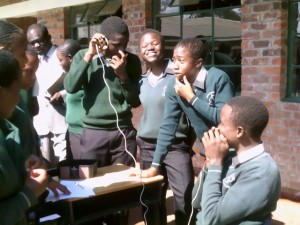 On the exhibition, E.C.D students presented  collections of different soil samples, Grade 1 and 2 presented collection of trees. Grade 3, 4 and 5 presented recipes for salad creams, glue, sea divers, and springs. Grade 6 students presented models of blair  toilets and thermal electric power station.
The junior secondary students presented designs of pre-amplifiers, electrical water heaters and electrical conductivity of water in circuits. The  pre-amplifier came first which was designed by Innocent in Form 1 (grade 8).
Senior secondary students presented  designs of magnetised wire communication, electrical quiz board, electric motor, alarm system and a model of the Sable Chemical Industry in Kwekwe. The electrical quiz board came first with the magnetised wire communication coming second.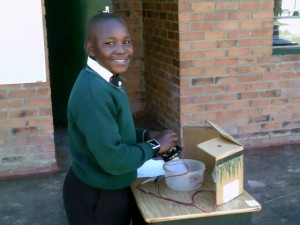 This winners are going to represent us at the District Exhibition were 64 schools will be competing – we are so proud of all the students!
---
Photos from the event: