Announcing Our New #BringingHope Photo Project!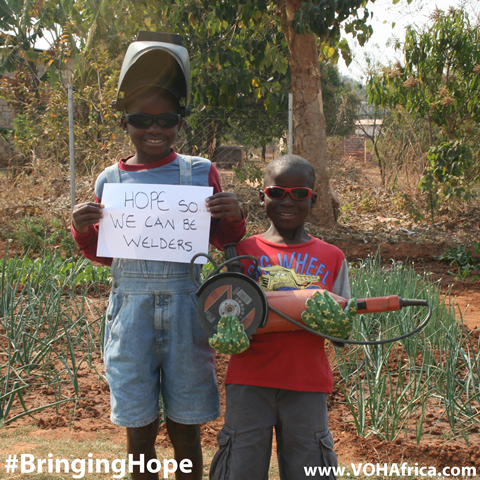 Remember when you were a kid, and one of the first things your parent's friends would ask you when they came over for dinner was: "What do you want to be when you grow up?"
I remember for me it was a Lawyer. Then the President of the United States. Then a Vetrinarian. Then a wildlife Vetrinarian.
Now I am "grown up" (or so they say) and I am a writer. I also tweet a lot; but to the general population "tweeter" is not considered a profession.
I changed my mind a lot. But knowing exactly what I wanted to be for the rest of my life at the mere age of eleven wasn't the important part. The important part was that I had a dream.
Children who grow up like I did – a safe home, a healthy family, and the basic necessities of life – have a lot of dreams when they are growing up. But what about the other children?
Knowing what you want to be when you grow up isn't about planning your future; it's about acknowledging the fact that you have one.
This is where the "hope" comes in.
Sadly, many of the children in Africa do not see this hope. They are living in circumstances that don't allow them to look much past today, and any hope for a future is left behind.
However, as you likely know, our Mission here at VOH is: to bring lasting hope to children at risk so they can embrace adulthood as independent and contributing members of society.
Bringing hope to children in need – this is why we exist. And when you support our projects, and contribute to the VOH-Africa community in any way, you are a part of this.
And so we wanted to do something different, because the children of Villages of Hope? Well they are beginning to see the hope for their futures once again. And with that hope comes something else…Dreams.
And within these dreams lies the answer to the question we so often forget the importance of: What do you want to be when you grow up?
In the past, there may not have been an answer, but now the answer is there; it's there because hope is there.
This is why we do what we do. We are Bringing Hope to children in need so…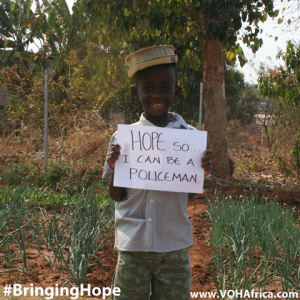 and so…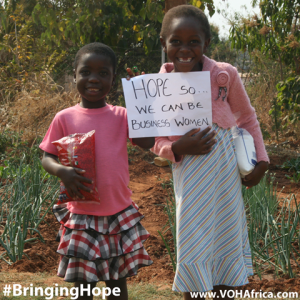 *
This photo project is for us, so we can smile at how adorable they are and celebrate with these amazing children and support them in their dreams for the future. But as I was taking these pictures during a recent visit to VOH-Chongwe, I realized something else, this project is also for the children.
I wish each of you could have been there when we first drove through the gate and made our way down to the nsaka (gazebo) where the children were anxiously awaiting our arrival. I was blown away. These kids had dressed up in a way that puts Halloween-ers to shame! They put so much work into making sure everything was just right – their shoes, their clothes, and, most especially, their props…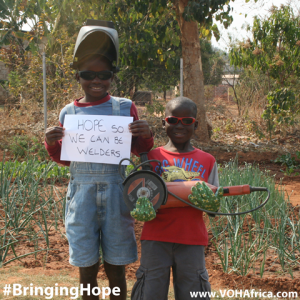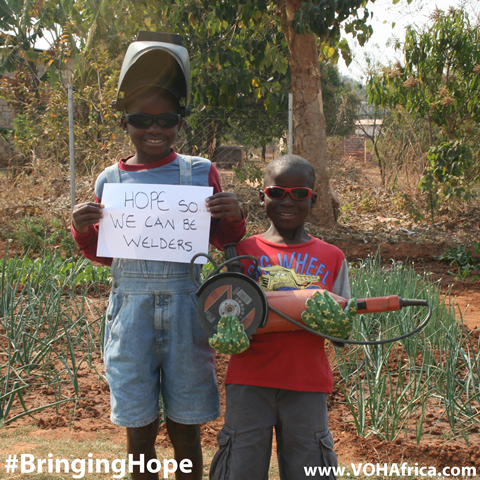 I think my excitement was only outdone by that of the children. I knew it was going to be fun, but in all honesty, I was surprised how much fun the kids seemed to be having. And then I realized something: maybe this was the first time they've ever been asked what they want to be when they grow up, maybe this is the first time they've stopped to think about it.
Maybe this is the first time thoughts of the future were laced with hope.
Hope to become a chef…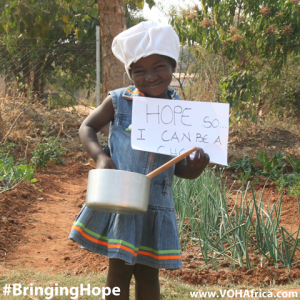 a musician..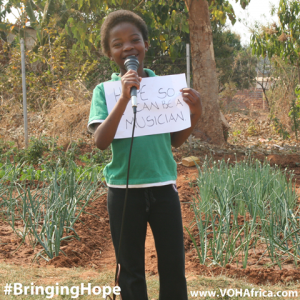 And, yes, even this…
*
I wish I could put fully into words what the experience was like; but even the writer in me is having trouble. But for some reason I feel the need to share this with you – two of my favourite moments during this whole process:
The first was the chefs (there were a couple of them) – they had the cutest little chef caps on. Not a cafeteria in sight, we asked where the caps came from. One of the house mothers replied, "We sewed them for the children early this morning." I was so touched by this, I think because the excitement didn't stop just at me, or at the children; it spread through the entire Village – the mothers just as excited and giddy as the children, and jumping on-board to help in any way they could, even sewing chef's caps.
The other moment also involved props. There were two journalists, and they shared a cordless microphone as one of their props. And then came the musician/singer (seen above). She was carrying a seemingly-random cable. Then she asked for the microphone, the girls handed it to her, and she plugged her cable into the microphone and posed for her picture. I don't know why this was such a memorable moment for me; but there was just something about it – she wanted to make it her own. She didn't want to be like the journalists, NO, she wanted to be a musician! And a musician needs to have her own props, and that means if the journalists were going to use the cordless mic as their prop, then she was going to add a cable and be a singer.
I think it was the ownership the children took that added to the entire experience. It showed this wasn't just something they were told to do; this was something they wanted to do, something they were excited to do, and maybe even something that a few years ago, they never imagined they would be doing.
Hope. It's a powerful thing.
*
And so we are inviting you to share in our celebration – the celebration of hope – as we launch our new photo project.
We chose the hashtag #BringingHope for obvious reasons. And you can search this hashtag on all of your favourite social networks: Facebook, Twitter, Instagram, Pinterest. This is an ongoing project, so we will be posting new photos regularly.
You can also visit our Bringing Hope Gallery hosted here on our site.
Please do feel free to share these images when you see them! Use the hashtag #BringingHope if you'd like, and help us spread the word about Villages of Hope-Africa, and join in celebration of hope restored in these children's lives.
We look forward to sharing many more of these amazing photos with you!
*