Evelyn is a 9-year-old girl that attends our school and feeding program at VOH Kenya. Recently, she started being absent from school and we grew concerned. Upon investigation, we came to realise that her home situation had deteriorated to where her basic needs were no longer being met.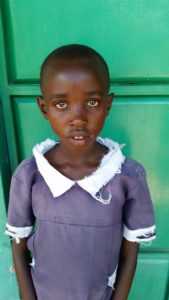 Evelyn's father passed away some time ago. Her mother is unable to care for her and is in need of rehabilitation and counselling, which we immediately began helping with.
We found Evelyn in a severely neglected state with untreated malaria, open sores on her face, and malnourished at only 20kgs at 9 years old. She was afraid and distraught.
In the meantime, Evelyn has moved into one of our children's homes where she is no longer neglected and alone. She received immediate medical attention and returned to school.
Evelyn's been in her new home for one week and she's already smiling, playing, laughing, attending our Sunday School program and regaining health and strength!
---
Here are some pictures of Evelyn with her new VOH housemom:
Tweet: [Tweet "VOH Kenya Welcomes Evelyn!"]