Check out what's been going on this week at Villages of Hope-Africa...
Water Tank Answers Prayers!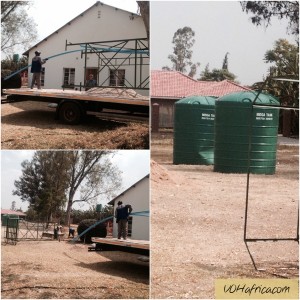 Last week an anonymous donor contacted VOH Zimbabwe and asked us if we were interested in a water tank – it was just after we had discussed the need for having such a tank to help us with the gardens by our homes. We gladly said yes and waited for delivery of the one tank that was promised. In the meantime we began to plan how we would be able to purchase the mount for the tank and the pipes that would be necessary for it to supply water to the homes. We were absolutely amazed when two tanks complete with two towers and all the necessary piping was delivered! We are so thankful for the way that God provides!
---
Education at VOH Burundi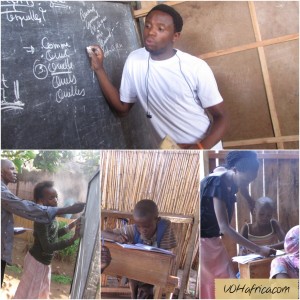 Each day at VOH Burundi our teachers and volunteers are busy helping our students with extra after school lessons. These lessons go deeper into the curriculum to help the students understand what they have learned at school. The children are divided into groups according to their grades. In addition to the extra instruction, the children are also helped with any questions that they may have about their home work assignments. We have seen a big improvement in the children's performance at school since these extra lessons were started.
---
World Teacher's Day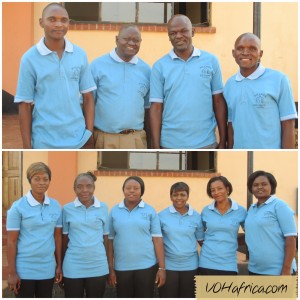 VOH Chongwe teachers took part in World Teachers' Day events last week. World Teachers' Day celebrates the significant contribution that teachers make in the lives of their students. Villages of Hope is thankful for all of the dedicated men and women who have committed their lives to investing in the futures of orphans and vulnerable children in Africa!
---
VOH Kenya PTA Meeting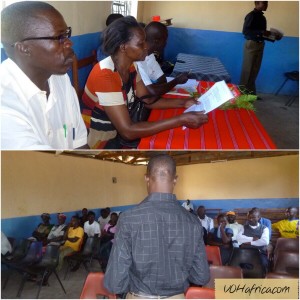 The end of the school year at VOH Kenya is coming fast! The last day of classes is in less than one month on November 14th. We had our last PTA meeting this week, where parents and guardians gathered together along with the school administration to hear about ideas for next year. Everyone was also told about the overall academic performance of the school, and the upcoming graduation ceremony of the Kindergartens as they enter grade one. Those who attended were happy with the communication between school and home, and appreciated being able to add their comments, suggestions or questions and be a part of their child's school life!
---
New Ministry of Education Literacy Program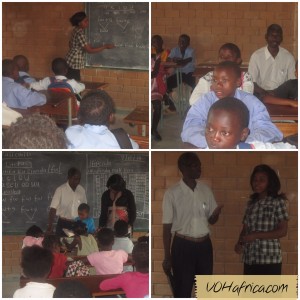 The Zambian government under the Ministry responsible for education has introduced a new program for reading instruction. In this new literacy program, children will be taught how to read in the language used in the area where their families are from.
The implementation of this program requires parent or guardian participation and all schools are encouraged to work with people from their communities.
Today at VOH Kitwe, we were visited by Mr. Zulu, the PTA representative. He came to monitor and observe the implementation of the new literacy program and was given an opportunity to sit in the class and observe the literacy lessons. Mr. Zulu was very impressed with the way the lessons were presented and with the pupil's response!
---
VOH Mongu Eye Clinic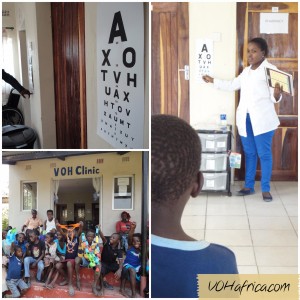 Last month we held an eye clinic for some of the children who attend school at VOH Mongu. The eye clinic from our local Hospital offered to come to assess some of the school children. The children were really excited and many parents and guardians came to support them. Eight of the children who were tested were referred for further assessment.  This was such a great opportunity and will definately help them in the classroom environment.
---
New School Clothes for VOH Malawi!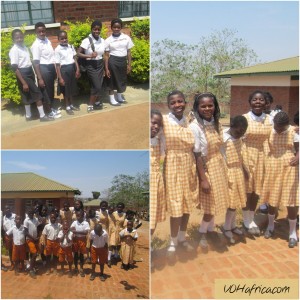 There was lots of excitement last week at VOH Malawi when students at the school received new shoes, socks and uniforms! We are thankful to the head of Administration for the European Union in Malawi who made these new uniforms possible thanks to funds donated to the Village during her farewell party two weeks ago.
---
VOH Mwanza Primary School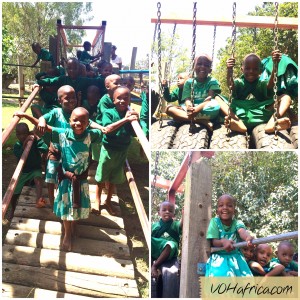 We are so thankful for our Primary School onsite at VOH Mwanza. It provides excellent education for our younger children from the children's homes and also to many children from the surrounding community. The school currently runs classes from preschool up to grade 2 and is growing each year. The Pre School aged children enjoy some fresh air and playtime outside as part of their daily class routine. They are full of life – and giggles!
---
Share this post:
[Tweet "Water Tank Answer to Prayer: This week at Villages of Hope #vohafrica"]
Receive these updates along with our monthly newsletter via email by subscribing  HERE
________________________
Stay Connected with us!