Check out what's been going on this week at Villages of Hope-Africa...
VOH Burundi Saving Lives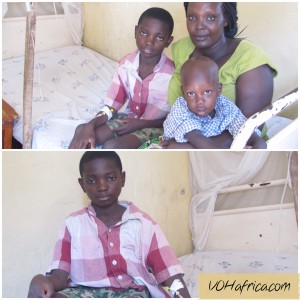 Young Dieu is one of the double orphans that VOH Burundi cares for. Last week, he was hospitalized for the entire week because he was diagnosed with two types of malaria at the same time. We took him to the hospital when he got ill and he is now doing well.
His guardian is more than thankful to Village of Hope as she couldn't afford the hospitalization fees andtreatment.
His guardian told us "I don't even know how to express my appreciation to VOH Burundi, this child was to die if you didn't help and pay all the necessary fees for him to be admitted in the hospital". Dieu is now back at home, fully recovered and is able to return to school!
---
VOH Chongwe Students Prepare for Exams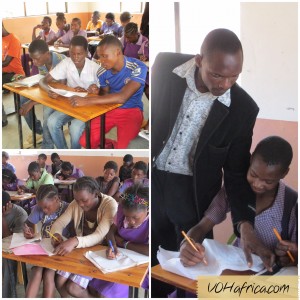 This is the first year that VOH Chongwe has a grade 7 class and the students will be participating in the National Grade Seven Examinations, which start on October 13th. The students are doing their level best to study hard and they spent the last week in final preparation with the help of their teacher. We are wishing them all the best!
---
VOH Kenya Art Project
Last weekend at VOH Kenya the kids in the children's homes took a break and had some fun with an Art project. They made cartoon bodies and then attached the drawings to a photo picture of their face. There were a lot of creative drawings and the children had a great time imagining what they wanted to pictures themselves doing. Some of the children chose to picture themselves on top of Mount Kenya while others pictured themselves playing a tune on a nice guitar. We love to give the children opportunities to be creative, use their imagination, and think big about the possibilities in life!
---
VOH Kitwe Child Protection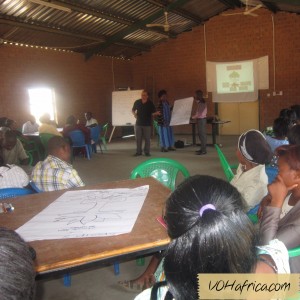 This week during his visit to VOH Kitwe, Sergio Bersaglio, the Executive Director of VOH Africa facilitated a child protection refresher training session. The training was on "Equal Rights to All Children ensuring protection against prejudice and discrimination"
The training was attended by all members of the VOH Kitwe staff. It was exciting, educative and refreshing. The success of child protection requires the educating of all those who are involved in the children's lives, and therefore, the community where the children are coming from will also be offered training and education on child protection.
---
VOH Malawi Farewell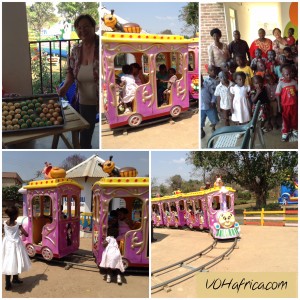 Last week VOH Malawi children were invited to a farewell party for Annette, the Head of Administration for the European Union in Malawi. The party was held at a local children's park called Fun City and everyone had a fantastic time!
Annette has a big heart for Village of Hope and she was happy to be able to spend this special time with the young children before she moves back to Europe. Although the children are sad to see her leave, they were very happy to be able to spend this special time together!
---
VOH Mongu Helping the Elderly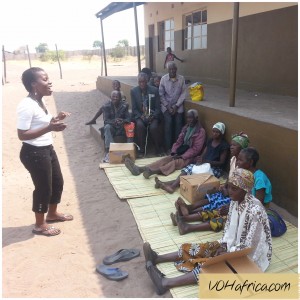 This week at VOH Mongu, we met with the elderly in our Save a Life feeding programme. It is always great seeing them get as excited for the word of God as they are to receive their food. Because most of them struggle to walk and can't make it down to our Save a Life cen
tre and back up again, we have decided to meet at the Village of Hope school, which is at the top of the hill.
We are so excited about this new program as Village of Hope continues to reach out to meet the needs of those in the surrounding community.
---
Meet Mwanzo the Cow!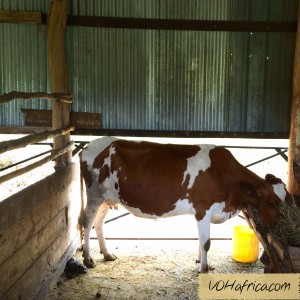 VOH Mwanza is very thankful for recent generous donations that made it possible for us to purchase a new milking cow! Our Farm Manager Steven, was very excited to be adding another cow to the family. He decided to name this new cow "Mwanzo" which means "new beginning".
Steven chose this name because the cow arrived at the same time as our new Directors! We now have a total of five cows – three milking cows and two calves. Everyone is enjoying the milk and is excited about all the great things to come in this time of new beginnings.
---
VOH Zimbabwe Building Progress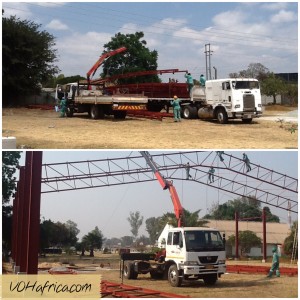 Last week was a very exciting week at VOH Zimbabwe. The steel frame for our new multi purpose auditorium was delivered and unloaded with the help of a large crane. The hydro lines had to be removed as we began to erect the structure, which took a bit of extra time, but by the end of the week the frame was up and there were smiles all around!
---
Share this post:
[Tweet "VOH Burundi Saving Lives: This week at Villages of Hope #vohafrica"]
Receive these updates along with our monthly newsletter via email by subscribing  HERE
________________________
Stay Connected with us!