Check out what's been going on this week at Villages of Hope-Africa...
VOH Burundi Singing Club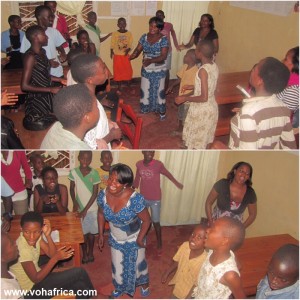 VOH Burundi has started a singing club led by Francoise, a friend from the local church. Francoise is teaching the children voice training exercises as well as a lot of new songs. The children are having a great time together at this new club and we all enjoy hearing them practice!
---
Prayer at VOH Chongwe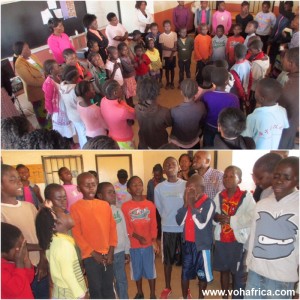 Last week the children and staff at VOH Chongwe took time to pray for children in Zambia and around the World who are being abused or living in places where there is war or other difficult and challenging situations. The gathering was a time of mixed feelings for the children, feelings of both sorrow and thanksgiving. They were sorrowful to learn more about how some of their friends around the world have to live and yet thankful because they are protected, safe, and cared for at Village of Hope. We plan to make this time of pray for children around the world an annual event.
---
Kenya Broadcasting Corporation Visits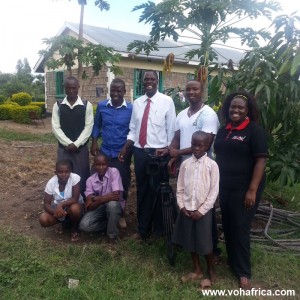 Children and staff at VOH Kenya had a great time visiting and talking with a crew from the Kenya Broadcasting Corporation and the National AIDS Control Council (NACC) of Nairobi.
The visitors came all the way to Kisumu from Nairobi to create a short TV program highlighting VOH Kenya and how we are supporting the community and working with vulnerable children giving them quality care and a hope for the future.
This is not the first time that the NACC has visited VOH Kenya and we are very happy to see the partnership between the two organizations continue to grow and strengthen.
---
VOH Malawi Business Projects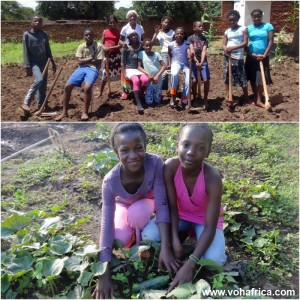 One of the ways VOH Malawi equips the next generation is by having the teens work on business projects to broaden their knowledge and skills. Recently they went out and bought seeds and fertilizer using a small business loan. They worked the ground, watered, and weeded and now are starting to see the fruits of their labor. They've grown beautiful cucumbers, which they will be picking shortly and selling. Seeing the success of their efforts is a huge encouragement to everyone involved!
---
Environment Day at VOH Mongu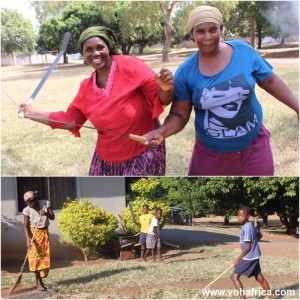 June 7 was Environment Day at VOH Mwanza. Moms, staff, and children were all involved in one way or another – slashing grass, raking leaves, gathering trash, cutting dead trees, collecting wood, planting trees, etc.
Everyone was so happy with the results and had such a good time working together that we have decided to make this a regular routine in order to build good work ethic and keep our grounds clean and tidy!
---
UNICEF Donates to VOH Zimbabwe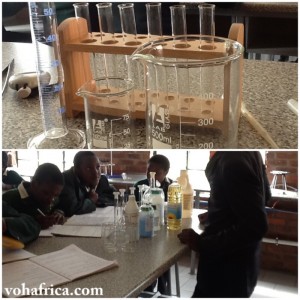 Last week VOH Zimbabwe received a donation of chemicals and equipment needed for their science classes from UNICEF through the ministry of education. They were planning to try to raise $2000 for these things but were thrilled when instead this donation worth much more than that was made! Now the children can do both chemistry and physics experiments.
---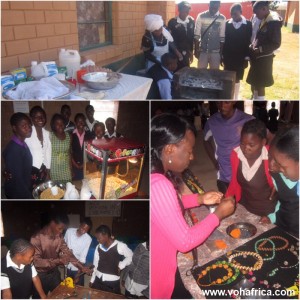 ICYMI: VOH Kitwe Business Expo
On June 11th VOH Kitwe held its 2nd Annual Business Expo for their high school students.
During the Expo, students are placed in small groups and visit each of the booths, all of which display various small business ideas… 
Read full story
---
and also…
Welcome to our new website!
We are excited to launch our new website today! We've updated the information, added some new pages, and gave things an entire design overhaul. We hope you like it!
Here are some new things to check out:
Testimonials page – hear what others are saying about VOH Africa (including graduates) and share your own experiences!
Get Involved – find out ways you can get involved and help support our efforts to bring hope to children in need.
About Us – we've updated our about us page with information on our mission, vision, and values, our organizational pillars, and our history.
We also updated all of our Village pages
and don't forget to check out our #BringingHope gallery if you haven't yet!
Plus it has a brand new, mobile-friendly version!
---
Photo of the Week: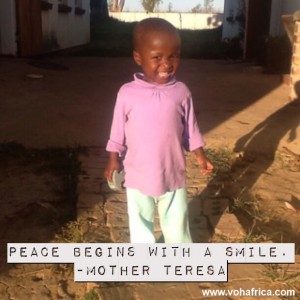 ---
Share this post:
 [Tweet "Our Brand New Website: This week at Villages of Hope #vohafrica"]
Receive these updates along with our monthly newsletter via email by subscribing  HERE
________________________
Stay Connected with us!