Check out what's been going on this week at Villages of Hope-Africa…
***
VOH Mongu Saving Lives
Only a few weeks old, precious Agness was born 2 months premature and brought to our Save a Life centre at VOH Mongu weighing only 1.36kgs. Unable to produce enough milk to feed Agness and fearing malnutrition and infection, her mom came to us for help. Our staff immediately incubated little Agness to regulate her body temperature to ensure a healthy growing environment and are monitoring her supplemental feedings to ensure proper nutrition. After only 2 days in our centre and incubator, Agness has already gained .6kgs!
***
Fire Safety at VOH Burundi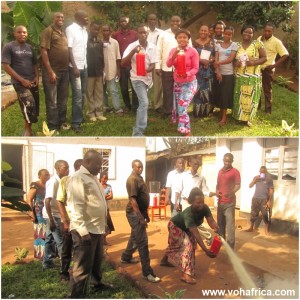 This past week, VOH Burundi staff and volunteers all received special training on fire fighting! The National trainer from the Civil Protection Agency spent the whole day training the staff, volunteers, and some children on different methods to prevent and to fight fire and also on the use of fire extinguishers.
***
Learning Life Skills at VOH Malawi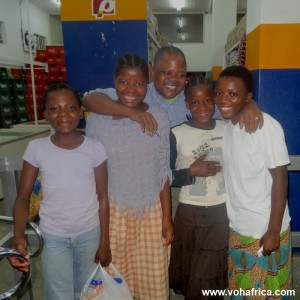 The older girls at VOH Malawi are learning how to shop and budget with their moms. These four girls recently went shopping for the weekly bread for all our homes. They have become good friends with the gentleman in the photo who is the manager of a new store not too far away from Village of Hope.
***
VOH Kenya Welcomes Menno and Pat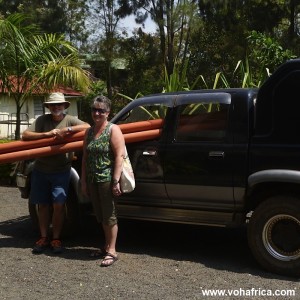 VOH Kenya is happy to welcome Menno and Pat Sawatsky, from Manitoba. They will be volunteering for one month. The Mennos plan to build a beautiful playground for the homes including a monkey bar, a slide, tire swings, teeter-totters, soccer goals, a tire climbing structure, and a sandbox.
Pat will also be helping the nurse with the children's health and care, and teaching some basic health lessons to children, teachers, and moms. We are so blessed by Menno and Pat's desire to help, and their love for the children!
***
ICYMI: Director's Blog January 2014
My challenge to myself and to you is to fight the temptation to be busy for busyness sake. Take more time for relationship, things that cannot be measured in this lifetime. So in the midst of all that needs to be done this coming year, I hope to be able to keep things in perspective and never lose sight of this valuable truth Thomas Merton pointed out to me. I also hope to value others not based on what they do or accomplish, but on who they are as people… Read Here
***
Photo of the Week:
Our #BringingHope photo project has been running for several months now, and is a huge success! Thank you for all the "likes", comments, and shares as we celebrate the hope brought to the children in our care! Hope so he can become a farmer…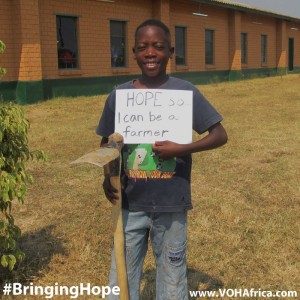 ***
Share this post:
[Tweet "VOH Mongu Saving Lives: This Week at Villages of Hope"]
Receive these updates along with our monthly newsletter via email by subscribing  HERE
________________________
Stay Connected with us!