Check out what's been going on this week at Villages of Hope-Africa!
***
Medical Students Visit VOH Chongwe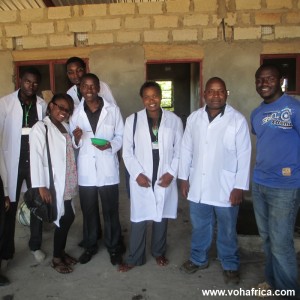 This week VOH Chongwe received a visit from a group of medical students from the University Teaching Hospital in Lusaka. The students were brought by the local Ministry of Health as part of their training program. Happy Mwale, our construction foreman, gave them a tour of the clinic, which is still under construction, and all were very impressed with the good progress being made as well as with the quality of work that has been done.
When the clinic is completed it will serve the children and staff at VOH Chongwe and will also be open to serve the surrounding community where there is a real need for good medical care.
Find out more about our Healthcare programs HERE.
***
Marie Miller Visits VOH Kitwe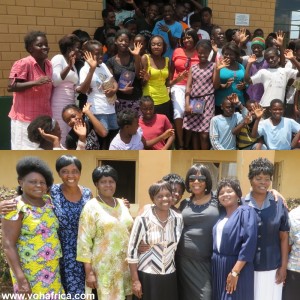 Marie Miller, pastor and evangelist from Toronto and a longtime friend of VOH Africa, visited VOH Kitwe this week and ministered to the children, youth, and staff. Marie travelled with Glendon Rigby, a retired teacher, who ran a two day teachers' training workshop. Everyone had a wonderful time of interaction with Marie as she led a week of spiritual emphasis for the entire Village. On the last day of her visit, Marie ministered to the Lead team and shared a message on "How to live in changing times."
The Moms and Youth were happy to have their pictures taken with Marie before she left; but all were sad to say goodbye to both visitors.
***
Christmas Weather at VOH Kenya!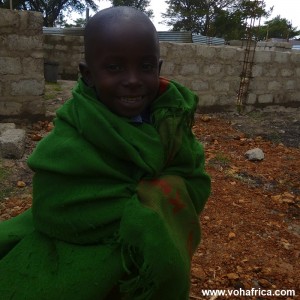 VOH Kenya is bundling up for Christmas weather! Although it is currently "hot season" in Kenya, it is still quite cold and windy for the first few hours in the morning. It is fun to see one of the students all bundled up waiting for classes to begin!This Christmas instead of turkey, we will be having an outdoor barbecue party with all the children's favourites: chicken, goat, sukumawiki (kale), ugali, and much more. We are thankful to our Canadian friends who help to make this special Christmas meal possible!
***
VOH Burundi Youth Studying Medicine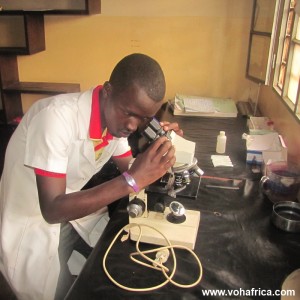 Peter Ndagijimana, from VOH Burundi, is full of hope today. He was abandoned by both parents at a very young age when they had a serious conflict and his mother ran away. His father then remarried and Peter was not allowed to stay with him and his new wife. Peter was left with no home and grew up as a street kid.
VOH Burundi has changed his life, accepting him and giving him a family and a place where he feels at home. We are also happy to be able to help him with his schooling. Today Peter is enthusiastic and very committed to his schooling, where he is studying medicine. We are thankful for the changes in Peter's life and for the sponsors who have helped to make it possible!
 ***
Christmas Break Begins at VOH Mwanza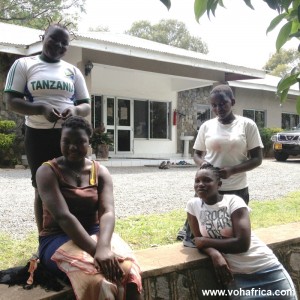 School is finished for the year and the Christmas holidays have begun at VOH Mwanza. Joyce, Christiana, Sara, and Katie are enjoying themselves on their school break. One of their favorite activities is doing each other's hair. It's great for them to be able to practice styling and braiding, a very big part of the culture for women in Tanzania.
***
VOH Mongu Christmas Play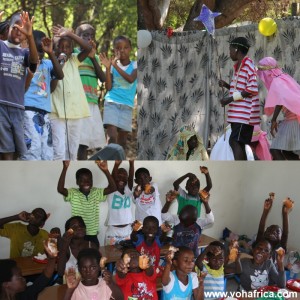 Last week VOH Mongu School celebrated the end of the year by performing a Christmas play for the children's families and friends and also the VOH staff. It was a beautiful play about the birth of Jesus and the children also shared a few special Christmas songs.
Afterwards the children returned to their classes where they enjoyed a very special chicken and n'shima lunch, followed by a donut for dessert and every child was given a small Christmas gift. It was a real day of celebration at the Village!
 ***
VOH Malawi Choir Performance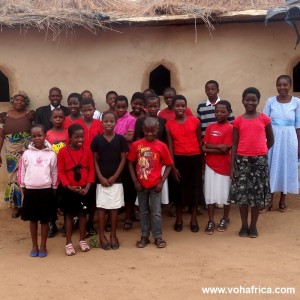 Some of the children from our VOH Malawi choir went to sing in a local village church this past Sunday. Pastor Steve works at Village of Hope during the week as our maintenance man and he and his wife graciously invited us to their church where we were warmly welcomed.The kids sang and our choir director, Bernadette, preached. After the service the children in the choir were excited to have their picture taken with Pastor Steve, his wife, and Bernadette!
***
Photo of the Week:
Our #BringingHope photo project has been running for several months now, and is a huge success! Thank you for all the "likes", comments, and shares as we celebrate the hope brought to the children in our care! Hope so he can become a welder…
 ***
This month's Director's blog: The Christmas Season
For me, my focus this season is to reflect on Christ's acceptance of me, the real me, the broken me, the one I hide from people most of the time. It is through this acceptance that God is revealed to me, that not only am I known to God, but also that He is being made known to me. I celebrate the hope that is in me, which was not there prior to Christ coming into my life. I celebrate the difference that Christ is making in the lives of the many vulnerable children we work with. I see first hand what having God with us is doing in their lives…Read Here
 ***
Receive these updates along with our monthly newsletter via email by subscribing  HERE
________________________
Stay Connected with us!