All of the Villages of Hope locations are blessed from time to time by couples and individuals who are willing to sacrifice their time and resources to come and serve. Evan & Amber Moffatt just completed ten months at VOH Kitwe where they worked with the Youth Empowerment Program establishing many new training and entrepreneurial programs to help our students both now and in the future.
Amber and Evan also organized the first annual VOH Kitwe Trade Fair, where 5 different small business options were demonstrated and the youth have since been trained in the areas that interested them.
On the weekends, Amber and Evan organized fun days for the younger children.  Amber, who is a nurse, also helped at the clinic, and Evan worked alongside our maintenance foreman to help keep the Village looking good.
*
The Moffatts shared the following thoughts as they were wrapping up their time in Kitwe and preparing to head back to Canada: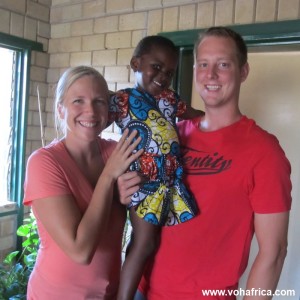 "It's hard to believe that it's time to say goodbye already. We have said these words many times over the past few days as we go through the process of transitioning home. The emotions are definitely mixed as we desire to be back in Canada with our family and friends, but then we know that we will miss the youth and staff that we have been working so closely with.  Slowly, we have been feeling God release us from this place and we are feeling more and more ready to return home. For example, this morning in church we were hoping to do one last song for the service but due to the business of preparing to depart, we weren't able to manage the practice time. Instead the youth organized themselves into doing a drama without any of our assistance at all! And it went really well!
One highlight of this week was finishing the girls and guys Bible studies.  Thanks to a donation from Bethany Church (our home church in Whitehorse), we were able to buy 25 study Bibles while we were here and started teaching the youth how to use them through Bible studies.
Another thing is that the youth have become very plugged into a local church where we were all attending and this past Saturday they walked 45 minutes in the rain so that they could attend youth group and do some practical outreach. Through these things God is showing us that He is taking care of them and that He loves them much more than we ever could. They have grown in so many ways and we see so much more maturity in them.
One last highlight to mention is that while we were here we met one of the newest little girls to move into the children's homes and were able to sponsor her!!  Little Ruthie is loads of fun and we are going to miss her!"
*
Here's what some of the youth had to say about the Trade Fair that Evan and Amber organized:
"[Metal bending skills] can help me because I can't just sit and wait for the food itself to come on my table."

"When I have kids, I can continue to make and sell blocks and that way be able to send them to school and college."

"Popcorn making is very interesting to me because when I was young before my mother passed away, she used to make popcorn and I helped her sell it."
Everlyn Chitente, Director at VOH Kitwe said:
"I observed that for many of our students it was the first time that they were exposed to options that could make their lives economically independent. They all knew that one needs money to survive and provide for themselves and their families, but they didn't know where to start.  This first Trade Fair turned out to be a great success, it was very well prepared. It has given us as leaders at the Village a sense of responsibility to help the students get more exposure to such things in the years ahead. We have already begun preparing for next year's Trade Fair."
George Zyambo, VOH Kitwe School Principal said:
"The 2013 Trade Fair was very educational for our students. The enthusiasm exhibited by them during the trade fair is evident enough to say that they acquired some business skills and knowledge.

Students were also motivated by the fact that they were given the opportunity to ask questions and physically try hands on step by step procedures at each booth.  The students appreciated the good time they were accorded during the event. They have learned a lot and I believe that the knowledge they have acquired will be put to good use."
We are thankful for the many people who have been willing over the years to come and share their skills, giftings, and also their hearts with VOH children and youth. Each one of you plays a part as we continue bringing hope to children in need. 
*
Are you interested in helping us continue to train and support the youth of VOH-Africa?
There are many ways to help, including through sponsoring Youth High School Completion – find out more on our donate page.
_______
Twitter: @voh_africa