Check out what's been going on this week at Villages of Hope-Africa...
Educating Girls at VOH Burundi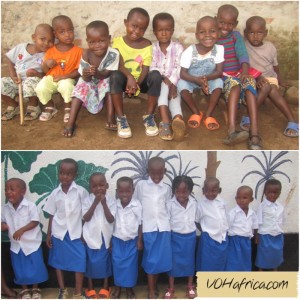 VOH Burundi is happy to welcome 9 new girls to Hope preschool. Their first day at school was a bit scary for some when they were first dropped off, but the initial scary feelings soon gave way to smiles as they met the other children and later tried on their school uniforms!
VOH Africa places high value on gender equity at all ages, and the addition of these girls brings a good balance of boys and girls to the preschool.
---
VOH Chongwe Administrative Building
VOH Chongwe is happy to announce the completion of our new Administration Building! This building will provide much needed space for the Village Director, Administrator, and Secretary. It also provides more room for the Board, Lead Team and others to hold meetings. The original Administration offices are now being used as a classroom.
---
Midterm Exams at VOH Kenya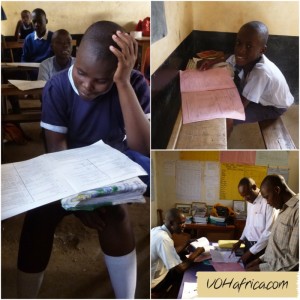 The children at VOH Kenya studied hard and worked with teachers to prepare for their mid-term exams that they took last week. The children are very dedicated and take exams very seriously. The Nursery and Kindergarten class children also have the opportunity to show what they have learned about things like the alphabet and numbers.
Now the children wait eagerly to get the results back and teachers will use the results to see areas of study that need a little more time and care. VOH Kenya is very proud of our children because of the focus, energy and time they put into their education!
---
Discipleship at VOH Kitwe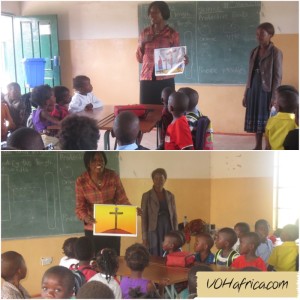 VOH Kitwe Director, Everlyn Chitente, has been focusing on discipleship and inspiring children to want to learn more about Jesus from an early age.
Everlyn recently went into the preschool class to demonstrate how the preschool teacher could present a simple Gospel message to the children. It was very encouraging to see how eager the children were to learn. This training is ongoing and is a continuation of what has been happening since the first children came into our care at the Village.
---
EU Delegation Visits VOH Malawi!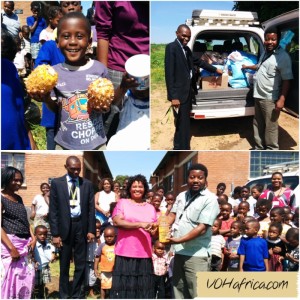 VOH Malawi was thrilled with a surprise visit from The European Union Delegation to Malawi last week. They arrived with groceries for all of the children's homes. The children joined their moms to receive this special blessing and then helped carry it home. Each home received fruit, maize meal, cooking oil, milk, and rice. Every face had a smile because of this visit!
---
Saving Lives at VOH Mongu
VOH Mongu recently admitted three children to the Save a Life Centre. Munukayumbwa is 1.5 yrs old, with severe malnutrition and swelling in his face and limbs. He is unable to crawl and walk. He loves tickles and has the cutest smile.
Inutu is also 1.5yrs, and is currently being fed by NG tube as she was so weak when she came, refusing to eat. Over the last week she has gained strength and is a lot happier.
Siusiku has been discharged from hospital and is back in our care. He is looking so much better! We appreciate all the prayers for these three children and for those caring for them.
---
Harvesting at VOH Mwanza
The children and Mamas at VOH Mwanza have been busy for the past few weeks harvesting and preparing our maize crop. Everyone has worked hard to harvest, shuck the cobs of maize, dry the maize and prepare it for milling to make maize flour which is used to make Ugali, a staple food in Tanzania.
This video is of some of our mamas and aunties singing while working away.
http://youtu.be/nu_1Fnoxxbs
---
Latest Blog "Donor Spotlight: Dave and Vicky Skoda"
There are so many ways to give back without adding a lot to your workload. Look at what you're already doing. Can you donate one hour of your time per week/month/etc.? Do you have a hobby making wooden toys, knitting slippers, baking?…read more
---
Photo of the Week: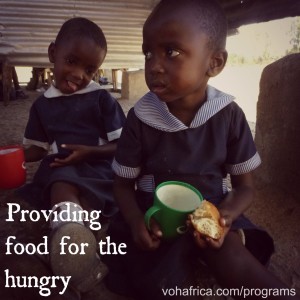 ---
Share this post:
[Tweet "Educating Girls at VOH Burundi: This week at Villages of Hope #vohafrica"]
Receive these updates along with our monthly newsletter via email by subscribing  HERE
________________________
Stay Connected with us!