Check out what's been going on this week at Villages of Hope-Africa...
European Union Donation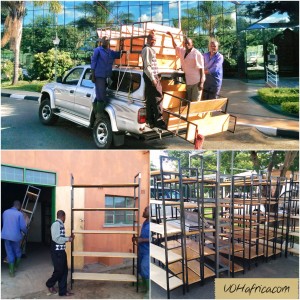 VOH Malawi has a great relationship with the European Union Delegation to Malawi. They often invite VOH kids to participate in their events and also have donated much of the office furniture we use. This time, they were changing their office around and have donated 9 of their exceptionally well made shelves!These are going to be an excellent addition to our library at Lilongwe Hope Academy. We have been unable to display all of our books as of yet but now with this gift we are able to offer much more selection for the children. Thank you EU for thinking of us once again!
---
VOH Burundi Visits Canada!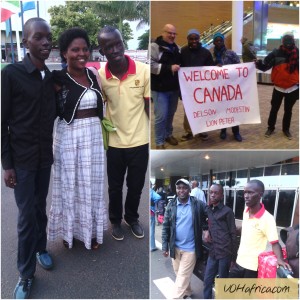 This week, VOH Burundi Director, Delson Niyimpaye, travelled to Canada with two VOH Burundi children, Modestin and Lion Peter, to participate at an important banquet organized by Cross Church, our  beloved partner in Winnipeg. We are excited to hear all about their experiences in Canada. VOH Burundi Administrator, Odette saw them off at the Burundian Airport and some Canadian friends met them on the other side!
---
New Uniforms for Chongwe Crew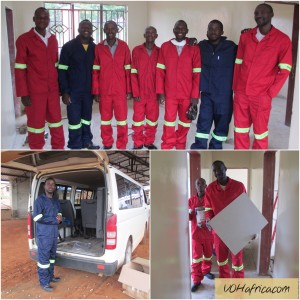 There were lots of smiles at VOH Chongwe when the Construction Crew, Maintenance Team, Landscapers, and Transportation Officer were presented with new work suits! This has been made possible by our sponsors who we continue to be so thankful to for their love and support.
---
Executive Director Visits VOH Kenya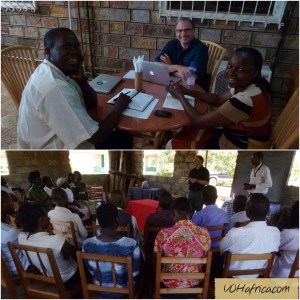 This week Sergio Bersaglio came to visit VOH Kenya. In addition to visiting the children's homes and school, he also spent time with Directors, John & Jane Okello.
Discussions included plans for the construction of a high school and school clinic. He also met with 2 members of the VOH Kenya Board.
All of the staff were blessed with an uplifting and inspiring message from him about where Jesus  was leading the disciples (us!) when he said "Follow me."
We are very grateful for the heart, dedication, and love of the VOH Africa family!
---
VOH Kitwe Computer Classes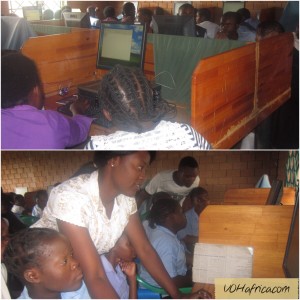 The VOH Kitwe Youth Empowerment Program, Kachimfya, is progressing steadily. The students are keen to learn all of the different skills being taught. Grade 11 students are enjoying their first computer training classes and are catching on quickly!
---
Meet George…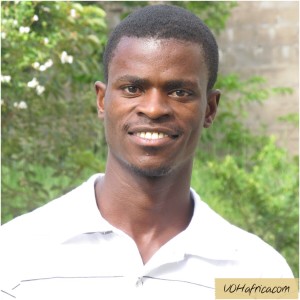 George Musiwa is VOH Mongu's grade 4 teacher, as well as our new Child Protection Officer. The children at school and even in the community all know and love Mr. Musiwa. He is also active at Hope Church, helping to lead Kids' Church.
We are thankful to have him as a part of our team and are happy to see him move into this new important role. Find out more about our Child Protection here: https://vohafrica.com/about/child-protection
---
Fish for VOH Mwanza!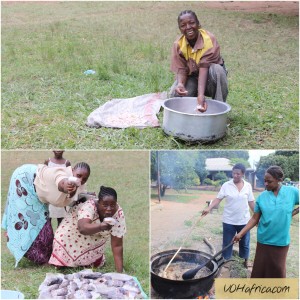 We are always grateful at VOH Mwanza when a fish donation comes in! There are several fisheries and companies who regularly make donations that really bless us. Sometimes it's enough that we don't even have to buy any fish that month.
Other times it's enough for all the houses to have fish for one or two weeks.
Either way, we truly appreciate every donation. The Mamas and Aunties work hard each time to clean and fry all the fish. It's a lot of work but they always do the work cheerfully with smiles on their faces.
---
 VOH Zimbabwe Welcomes New Mom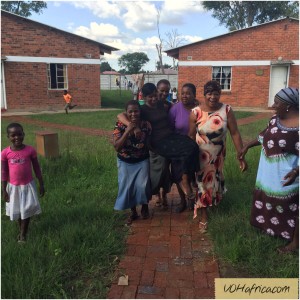 VOH Zimbabwe is happy to welcome our newest House Mom, Irene Maxwell, to the VOH family. Mother Irene was welcomed with open arms into house # 9 by the other moms. Four children will be moving into the home right away and four more will join them soon. We are very happy to be able to provide a loving and safe home to eight more children!
---
Latest Blog: "Meet Richard"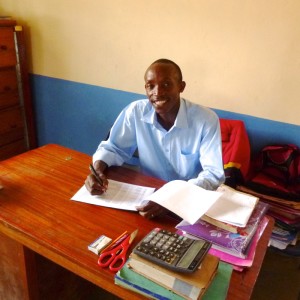 I believe God uses a willing heart to ensure the mission He has set through a person are achieved…read more
---
Photo of the Week:
More from our #BringingHope photo project…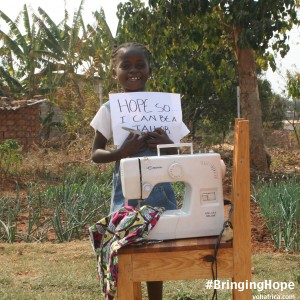 ---
Share this post:
[Tweet "European Union Gives to VOH Malawi: This Week at Villages of Hope #vohafrica"]
Receive these updates along with our monthly newsletter via email by subscribing  HERE
________________________
Stay Connected with us!