Check out what's been going on this week at Villages of Hope-Africa...
VOH Chongwe School Changing Lives!
Meet Kelvin, one of the students attending school at VOH Chongwe. Kelvin suffered with a slight learning disability and his parents were unable to afford to take him to school where he could receive special help and a proper education. Two years ago when they heard about Village of Hope providing free education to children in need, they came to ask if we would be able to help Kelvin. Since enrolling in school at Village of Hope, Kelvin has gained a lot of confidence and is smiling all of the time! His speech has improved and he has learned how to read and write. He also recently received a special gift from his sponsor that put an even brighter smile on his face!
---
Special Visitor for VOH Burundi
VOH Burundi was privileged to be visited by Mrs. Immaculee  Bazira, the Director of a Primary School in our area. Mrs. Immaculee has been a teacher for more than 40 years and we were so happy she took time with our staff to share from her many years of experience.

The school she heads has a very good reputation in Burundi and she shared many helpful teacher training ideas with our teachers. She also has a special place in her heart for orphans and was able to encourage us in our work!
---
VOH Kitwe Orange Orchard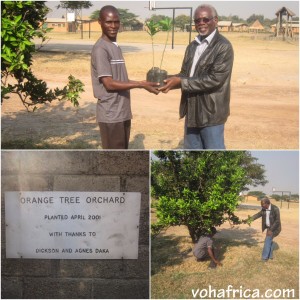 Thirteen years ago Dickson & Agnes Daka, who live quite close to VOH Kitwe, donated orange trees to start a small orchard at the Village. Since then they visit occassionally to see how the trees are doing and help with the care and maintenance of the orchard. Last week Uncle Dickson visited and gave us some tips on how to ensure the trees yield the very best fruit possible. 

We were very encouraged that as donors of the trees, he and his wife Agnes have not forgotten about the orchard. On this recent visit, Charles our landscaper, was presented with more trees to add to the orchard and to replace any that were not doing very well. The children love the oranges and they are good for them too!
---
Dinnertime at VOH Kenya!
Everyday at VOH Kenya, the kids living in the Children's Homes help their mamas prepare the meals. Preparations often include preparing 'sukuma wiki', (literally translated 'stretch the week'), a tasty vegetable dish that is usually eaten with meat. Fresh sugar cane grows abundantly all around Obumba, the small village where VOH Kenya is located, and is gathered and brought back to the homes. The children learn to be responsible and do their part for their community and family!
---
VOH Mongu Sports Day
VOH Mongu had their second Sports Day of 2014. All the children had a blast and loved playing together and racing against each other. Everyone had a chance to be involved in the races and other activities and the day was filled with lots of smiles and happy faces. 
---
Latest Blog: Where Are They Now? Naward
We found out about VOH through the church where our parents used to go. In 2000 my young brother joined VOH and a year later I also joined. My stay at VOH was a wonderful time and I learned many things I am applying in life even now…
Read full story
---
 Photo of the Week:
Because you all loved this guy so much….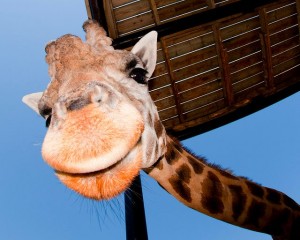 ---
Share this post:
 [Tweet "VOH Chongwe School Changing Lives: This week at Villages of Hope #vohafrica"]
Receive these updates along with our monthly newsletter via email by subscribing  HERE
________________________
Stay Connected with us!