This Week: Back to School, Special Gifts, and Airtel Donates!
Welcome to our weekly news roundup! Here we share stories from each of our Villages about our Programs, celebrations, children, and staff. If you'd like to receive these updates via email, please subscribe to our newsletter.
This week we returned to school, received donations from a local cellphone company, and gave thanks for 2018!
First, Come Say Hi at Missions Fest Manitoba!
We will once again have a booth at Missionsfest Manitoba from Friday, February 1st – Sunday the 3rd. The event takes place at "Church of the Rock" in Winnipeg, Manitoba. Stop by our booth to say hello, buy some Hope Art jewelry and stuffed Critters, and sign up to sponsor a VOH child! We hope to see you there!
Burundi: Welcome, Dennis, Joel, and Dave!

VOH Burundi had a wonderful time with our recent guests from Canada: Dennis, Joel, and Dave!
The three men have been busy by working with our preschool and primary children. They assisted with our feeding program and activated our children's imaginations with special lessons.
As Einstein said: "Imagination is more important than knowledge. For while knowledge defines all we currently know and understand, imagination points to all we might yet discover and create."
The lessons led by our visitors aimed to encourage our children to create and to imagine and to express by drawing on a piece of paper what they think reflects a powerful and beautiful image. At the end of the lessons, each child received a book as a reminder of their time together!
Chongwe: New School Year!
It's a new Year and a new term here at the VOH Chongwe school! We are happy to see our students return to school and it is good to see them so happy to be back! They are all excited to begin a new grade as the new school year begins.
We are also very pleased to announce that our grade 7 students received a 100% pass rate into grade 8!
We wish them a good academic year and say a big thank you to all of our teachers for their commitment to helping our children learn and prepare for their hope-filled futures!
Kitwe: Donation from Airtel!
VOH Kitwe is happy to share that Airtel, a local cell phone company, paid a visit and donated books and dolls for our children. They were impressed by the work we are doing and were happy to do their part and contribute.
The children were excited to meet our Airtel visitors because it is a very well known company here in Zambia. They were thrilled with the books and dolls, too!
Our Director, Everlyn, thanked the team for bringing the items to us. It is special to receive this kind of local support and a great example to our children!
Malawi: Christmas Gifts!

Over Christmas, VOH Malawi was blessed to receive special Christmas gifts for each of our preschool children in Kauma. The gifts were from ABC Christian Academy right here in Lilongwe. It is encouraging to have local organizations come along and partner with us in this way!
Our Administrator, Renatta Walton, and some of our teachers put on Santa hats as they distributed the gifts to our children. There were huge smiles all around!
We are so thankful for all of the many blessings received by VOH Malawi in 2018 and are excited for the year that lies ahead!
Mongu: Welcome Back, Students!
School started back this week at VOH Mongu! We are so excited to welcome 594 students from preschool to Grade 11 to the 2019 school year. The children were so happy to be back at school and to see their friends again.
Wabei (grade 9) and Annie (grade 10) and some of our grade 6 students are all good friends and are excited to be back at school together!
Wabei has been at VOH for 9 years and Annie has been at VOH for 4 years.
We can't wait to see what this year holds for our students and know that God has big plans for each one of them!
Mwanza: Celebrating and Giving Thanks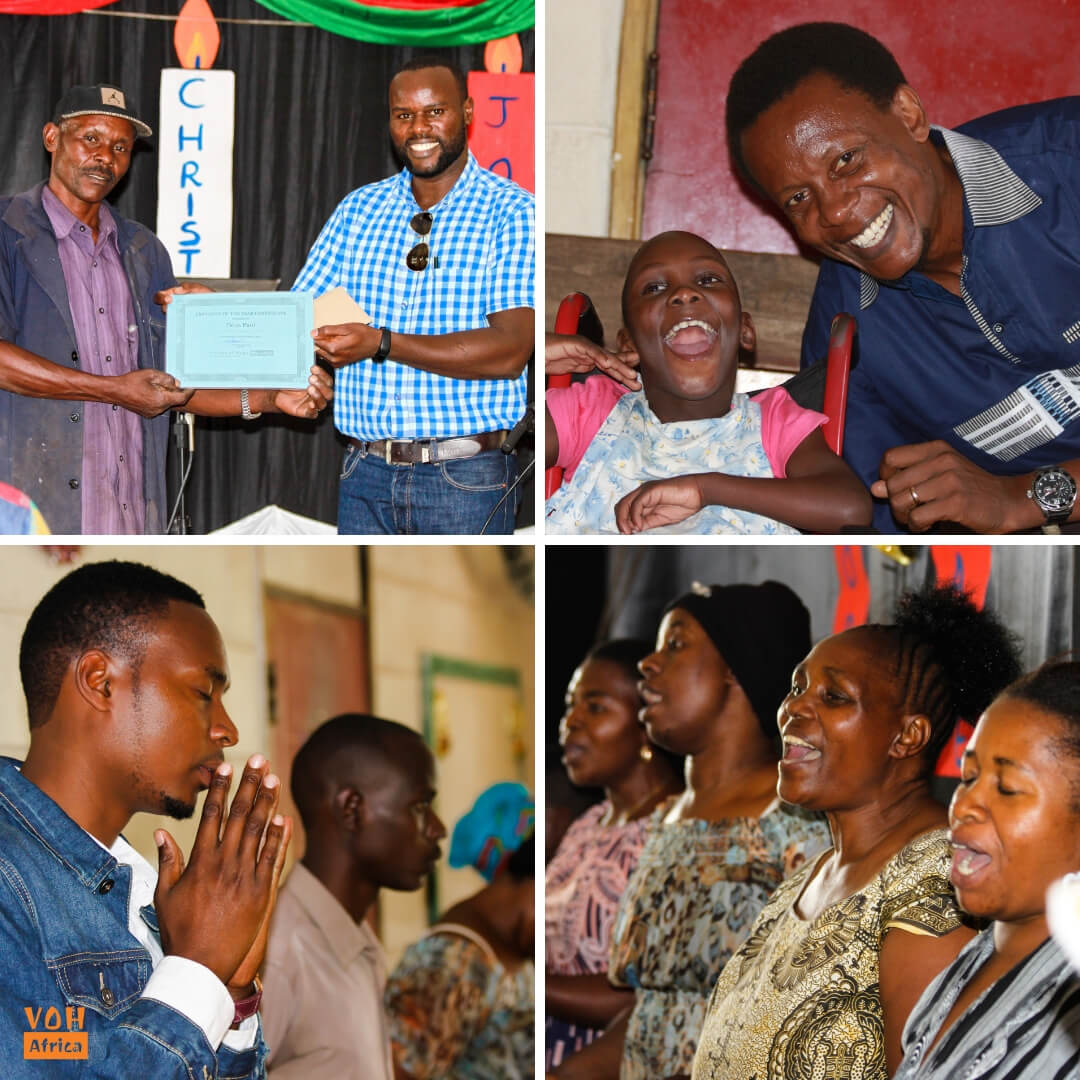 Recently at VOH Mwanza, we held a year-end Thanksgiving service together with all staff and children. It was a wonderful time of looking back over 2018 and thanking God for all He has done in and through us. It's been a year of great growth and we are truly thankful!
We heard testimonies from a number of staff and children and we praised God together. We have some amazing staff members and at this service, we also introduced a Worker of the Year award. This year it went to our amazing Head of Maintenance, Deusi. He is extremely hard-working, creative, caring, and a great example to our children at the Village. He is often the first to show up to work and the last to leave, and he takes his job very seriously. He is also a great mentor and is a wonderful father figure for our kids.
We are blessed to have Deusi as part of our amazing team at VOH Mwanza. We look forward to great things ahead in 2019!
Zimbabwe: Nokutenda's Bicycle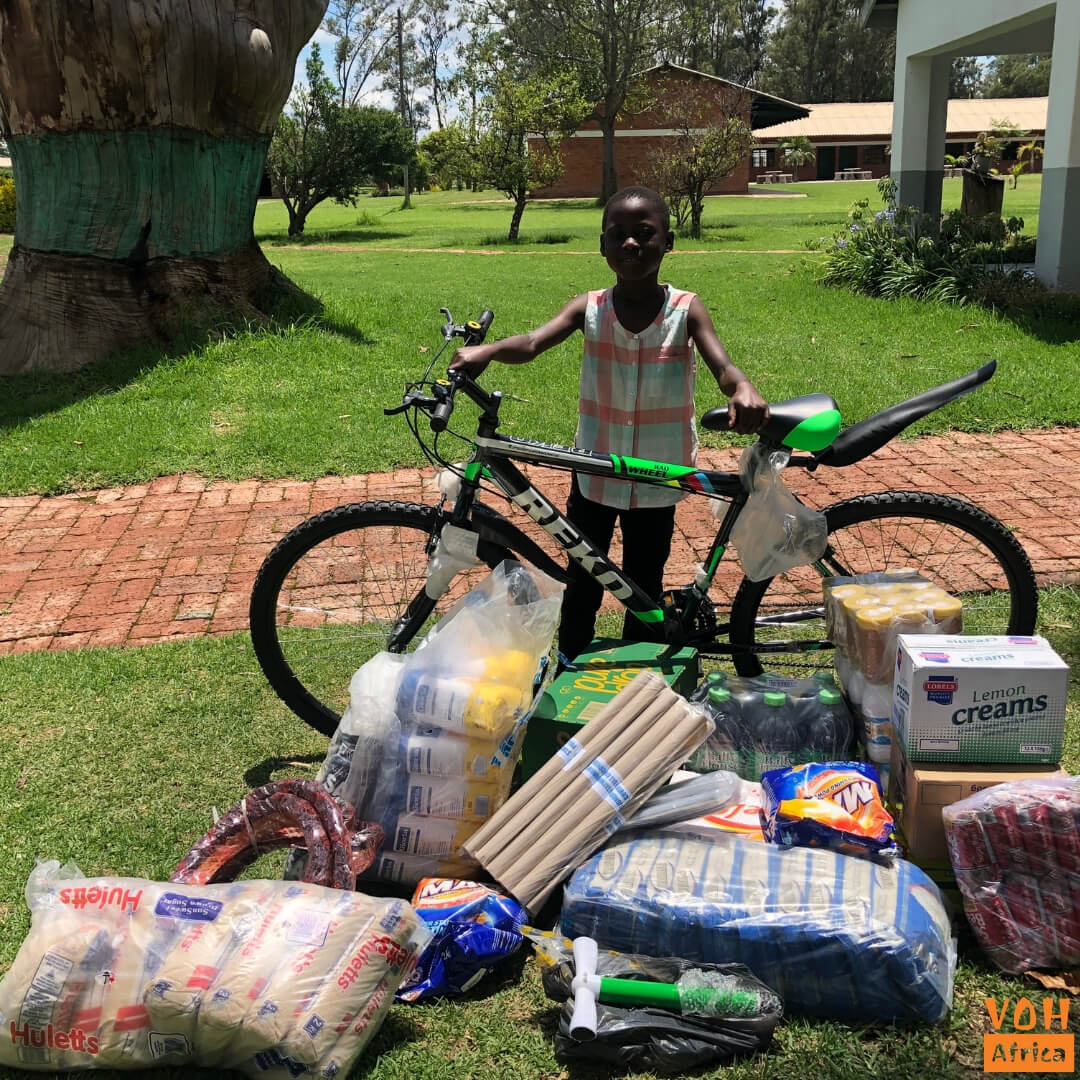 Recently Nokutenda was blessed with a bicycle from her sponsor. Prior to having a bike, she was walking over 7km (each way) to get to school every day.
Nokutenda is a very bright young girl and the distance she had to travel to school was affecting her grades. So this year she will be riding to school thanks to this blessing!
She also received school supplies and grocery items that will help her keep energized and healthy. We appreciate the continued assistance and help to make the lives of children bright!
Don't forget to follow us on social media for more stories and pictures: