Preparing for Christmas: this week at VOH Africa
Welcome to our weekly news roundup! Here we share stories from each of our Villages about our Programs, celebrations, children, and staff. If you'd like to receive these updates via email, please subscribe to our newsletter.
First, Check out our latest blog:
In this blog, we share the success of Evenings of Hope 2018, offer a recap of what took place at the events, and share some behind-the-scenes footage of our VOH guest's time in Canada!
Burundi: Christmas Celebration!

At VOH Burundi, we like to have a special Christmas celebration with our youngest children that is just for them! During this time we share their results for the first term and the VOH staff, as well as the children's guardians, celebrate the children's progress and hard work.
The rest of our children will have their celebration this coming Saturday.
Chongwe: Farmer's Kit
Since receiving our Farmer's Kit a few years ago it has proven to be a great blessing to the children and VOH Chongwe. The Kit has given the children an opportunity to learn sustainable skills that will help them in the future.
The Kit has also enabled us to grow greenhouse crops in and out of season that we use in our children's homes. We have also managed to raise some funds for continued operations by selling the extra vegetables once the children's homes have each received what they need.
For our latest crop, we have planted tomatoes and cabbages and we are looking forward to seeing them grow!
Kitwe: 15th Annual Graduation Ceremony!
Once again it is graduation time at VOH Kitwe for our grade 12 students. This is the 15th graduation ceremony we've had at our Village!
Our Director, Everlyn Chitente, congratulated the students for all of their hard work–in many cases against great obstacles! She also encouraged them to remember the journey isn't over yet and that their abilities will continue to grow as they continue to apply the things they have learned when they move on to further studies or employment.
One of the graduates (who grew up in one of our children's homes) gave a vote of thanks to the staff and her fellow graduates. Our local Pastor also encouraged and prayed for everyone.
We are so grateful to VOH Africa and all of our friends and donors for making it possible for these young adults to reach such a milestone in their lives!
Malawi: Christmas Gifts!

During our staff meeting this week at VOH Malawi, our Director, Uncle Jef, read from the book of Isaiah 58 verse 10: "Feed the hungry and help those in trouble. Then your light will shine out from the darkness, and the darkness around you will be as bright as noon."
This week we have started distributing Christmas gifts to the 235 children in our program. Included in the gifts are bags of maize, food items, and hygiene essentials. We hope these gifts will shine a light into the lives of those in the VOH family!
Bulale (Mwanza): Christmas Party!
VOH Mwanza's satellite location in Bulale recently held a Christmas Party for the kids. They performed songs, poems, and skits and then they did a Christmas craft together, played some games, and, of course, ate a yummy Christmas meal!
They were all very excited to also receive candy and a small gift.
These children have come a very long way since they started earlier this year. They are learning so fast and growing well. It was great to celebrate Christmas as well as to celebrate how far these kids have come in such a short time with the launch of our Bulale site. It's been a great year!
Mwanza: Kindergarten Graduation!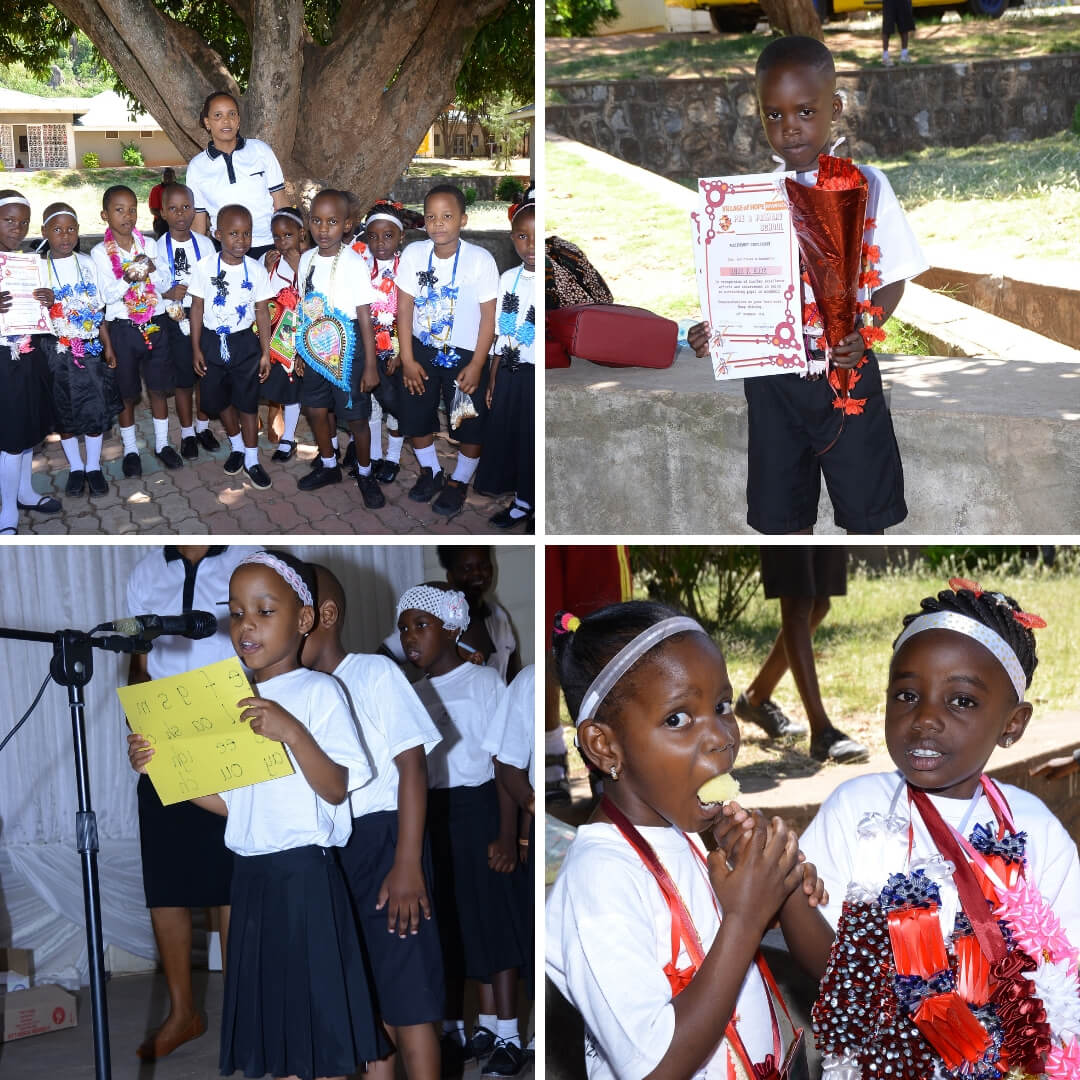 At VOH Mwanza we were happy to celebrate our Reception (Kindergarten) class' graduation. These children will be moving on to grade 1 in the new year. They have worked very hard this year and have learned so much!
During the graduation celebration, they presented things they had learned, songs, and dances. It was wonderful to see how far the children have come.
And because it was a party, there was cake and gifts!
The children are happy and excited to have a break over Christmas before returning to studies in January as grade one students, where we hope to continue to instil in them a desire for learning!
Zimbabwe: Annual Fundraising Dinner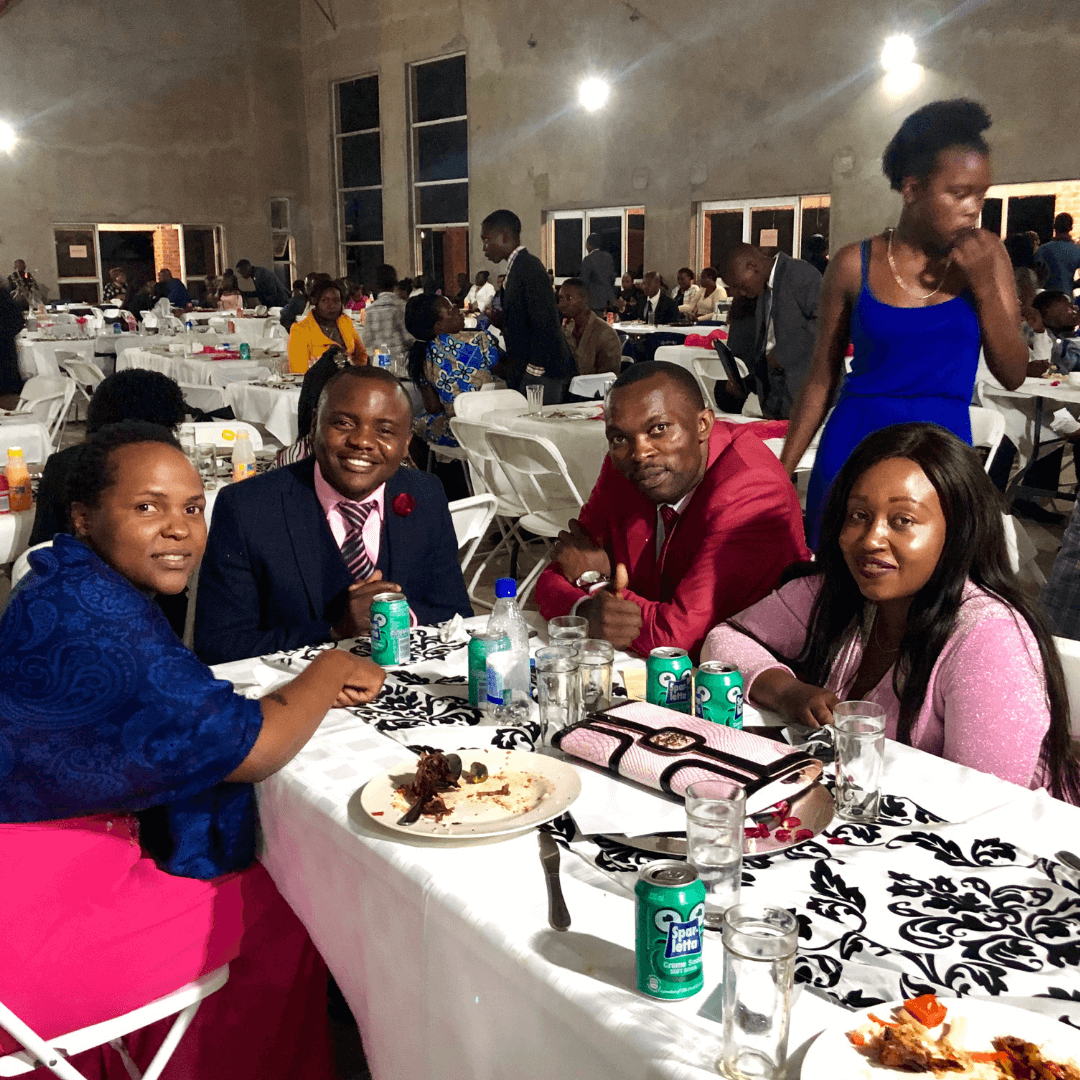 Last week at VOH Zimbabwe we held our annual fundraising dinner. Each year we invite friends from across the city of Harare and beyond to join us to celebrate all that has happened over the past year at the Village and to ask them to be a part of supporting the ongoing care that we provide for our children. We are happy to report that the evening was well-attended!
It was an evening of fun, food, and fellowship! We were especially happy to have Murray and Cindy Cornelius join us for the evening! Murray and Cindy are from the International Missions Department of the PAOC and were instrumental in starting the VOH here in Harare when they served as Africa Regional Directors for the PAOC.
We thank God for the turnout and the financial support received. It will go a long way in helping us to continue to bring hope to our children.
Here's our Photo of the Week:
Don't forget to follow us on social media for more stories and pictures: