Check out what's been going on this week at Villages of Hope-Africa...
Nationalized Leadership at VOH Chongwe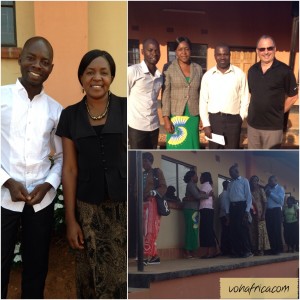 Last week was a big week at VOH Chongwe! Sergio Bersaglio was able to step down as the interim director of the Village when Shaline Mwenya, who has been serving as the Administrator, was appointed Director by the VOH Chongwe Board.
Samuel Mamatu, who has been serving as the Assistant Administrator, was named Administrator at the same meeting. The announcement was made to the staff by Pastor Raphael Mpange, who is the Chairman of the Board and also the pastor of the church where VOH Chongwe children and staff attend.
The staff were all very happy to hear the news and were quick to congratulate both Shaline and Samuel!
---
Meet Divin…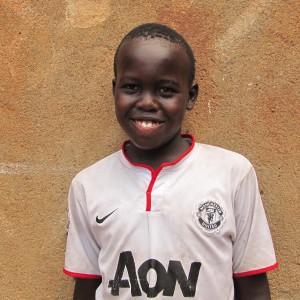 Divin is one of the newest children to come under the care of VOH Burundi. He lost his mother at a very young age and his father abandoned him, leaving him with his two sisters.
Sadly, just a few days later, one of the sisters also passed away. Divin was left with his one remaining sister to take care him. Unfortunately, things became difficult when Divin's sister married and her new husband refused to pay tuitions and buy the school supplies Divin needed.
VOH Burundi is happy to welcome him to the family and provide the care he needs. Divin is very thankful to be able to study now without any problems. Look at his smile!
---
Nancy Bersaglio Visits VOH Kenya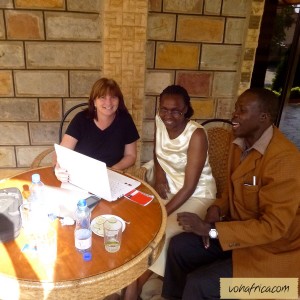 VOH Kenya was happy to have Nancy Bersaglio visit last week. Nancy spent time at the Children's Homes and school, gathering testimonies from several VOH Kenya children. We were also happy to show her the new library building and classroom that are currently under construction. Working with the Director, John Okello, and Administrator, Jane Okello the operation budget was put in place and plans for future projects reaching more of the community were made. It was a productive few days and we were pleased to have Nancy work together with us as VOH Kenya continues to progress and move forward in their care and love for the children!
---
VOH Kitwe Child Protection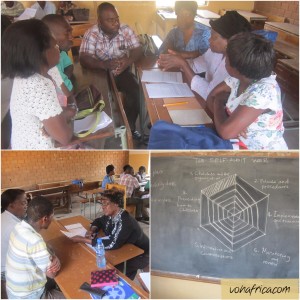 Child Protection is one of the most important policies we teach at VOH. This week at VOH Kitwe, mothers and security guards underwent training on how best they can work together to ensure the safety of the children and how to keep them from harm.
It was a time of sharing challenges and experiences and learning from one another. In the process, the two groups also agreed on the best way to handle visitors that come to see the children from time to time. In the same training, Self-Audit and Risk assessment was conducted and discussed.
The group in training appreciated the time of refreshing and learning as together they desire to provide the best possible care and protection for the children.
---
Danny Helps out!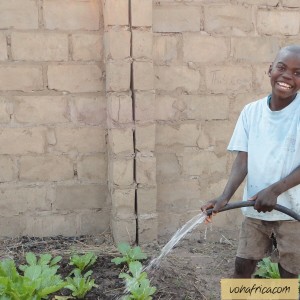 Bright and early every morning, Danny, a grade 2 student from VOH Mongu, can be found at school. Even during the school holidays, when classes are closed, but children come for the feeding program, Danny is the first to arrive and loves to help Aunty Jane, the school cook. He fills the water drums, washes the plates, and diligently waters the school garden. Rarely is Danny found without a beaming smile on his face, as he serves with such joy. Danny loves being a part of VOH and loves to help in any way that he can!

---
Latest Blog "Director's Blog: Protecting the Children"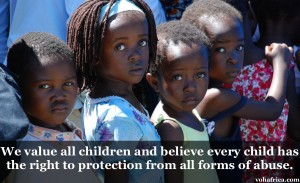 The responsibility of ensuring every VOH child is safe from every form of abuse is something I take very seriously. All Village of Hope locations are blessed with staff that feel just as strongly about our responsibility to ensure all of our locations are child friendly and safe…
Read full story
---
 Photo of the Week:
From our #BringingHope photo project…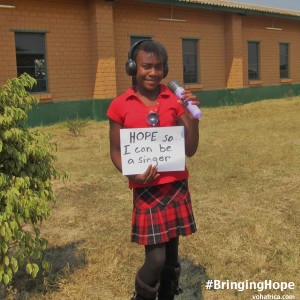 ---
Share this post:
[Tweet "Nationalized Leadership at VOH Chongwe: This week at Villages of Hope #vohafrica"]
Receive these updates along with our monthly newsletter via email by subscribing  HERE
________________________
Stay Connected with us!